Russia's authorities to tighten migration legislature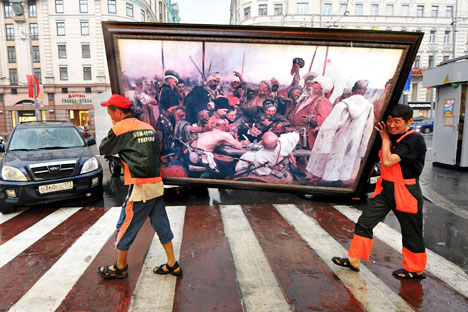 Migrant workers carrying a copy of Russian artist Ilya Repin's painting in downtown Moscow on June 11, 2009. Source: AFP / East News
The country's Federal Migration Service has fleshed out Prime Minister Vladimir Putin's proposals to restrict immigration.
In response to Russian Prime Minister Vladimir Putin's initiative to begin the process of immigration reform, Russia's Federal Migration Service (FMS) has proposed a plan to impose criminal liability on businessmen who hire illegal immigrants and provide them with housing.
Julia Yakhina, director of the migration department at the LEVINE Bridge law firm, expanded on the proposal. "Currently, the organization of illegal immigration is seen as a crime in Russia. Those employers who involve a foreign citizen in labor activity without special documentation face an administrative fee in the amount of up to 800,000 rubles (about $26 000)," Yakhina said. "In more serious cases, their activity may be suspended. Today the question of tightening the current migration legislature is on top of the governmental agenda."
In particular, FMS head Konstantin Romodanovsky plans to improve the enforcement of registration. Registration is required for all foreigners who come to Russia, but many immigrants, even ones who enter the country legally, obtain fake registrations and do not live where they are registered.
According to data from the FMS, currently around 260,000 migrants both from abroad are living with false registrations. Romodanovsky plans to keep better track of immigrants and, if an immigrant is found to be registered at a false address, he or she would be added to a federal wanted list.
In an interview with BusinessFM radio, Lidya Grafova, a member of the federal migration policy commission, said that around 6 million immigrants currently reside in Russia. "Our country has the world's second largest immigrant population after the United States," she said.
At the same time, Russia ranks 30th in the list of countries where foreigners want to work, according to a poll conducted by PricewaterhouseCoopers (PwC). Another part of Putin's plan – to require immigrants to pass an exam on Russian language, history and culture, will discourage them even further.
Experts say the situation is made more complex by the fact that immigrants to Russia fall into two main categories – low-skilled labor migrants and high-skilled specialists. "Currently, [Russia's] migration legislation has a lot of bureaucratic obstacles that complicate the establishment of labor partnerships between Russian companies and foreign citizens," said Yakhina. But Russian companies value those immigrants who want to move to Russia despite the difficulties. "Russian companies appreciate mutual collaboration with them, so employers prefer patiently get through the thick of migration bureaucracy for legalization of foreign employee's labor activity," Yakhina added.
She is concerned about the proposal to require immigrants to take exams. "Putin's recent proposal to force migrants to take exams on Russian language, literature, history and culture is seen as a tool to resist illegal immigration," Yakhina said. "Primarily, it refers to the residents of former Soviet republics." "Nevertheless, the new bill, if adopted, will be extended not only to citizens of CIS, but also to citizens of European Union, the U.S. and other countries."
Yakhina views Putin's step as "progressive" in the cultural context because it significantly decrease the differences among representatives of different nations who come to Russia to work or live. "In the long term, it will result in more tolerance between immigrants and Russians," she said. "This measure is hardly likely to surprise citizens of other countries orientated on the world's cultural and political standards because the Western countries also have a set of strict requirements including the mandatory knowledge of a country's language."
All rights reserved by Rossiyskaya Gazeta.