Revitalizing Russia's rust belt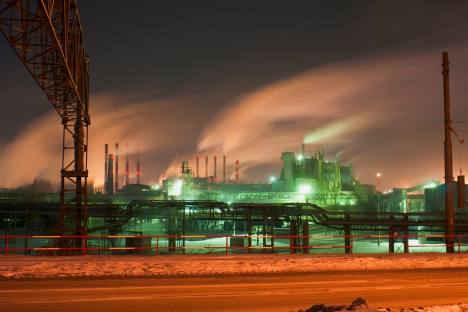 During the Soviet era, Chelyabinsk was a partially closed region full of weapons factories. Today it is hoping to attract foreign investment.Source: Lori / Legion Media
This industrial center on the border between Europe and Asia is counting on foreign investment to revitalize its manufacturing base.
In 1992, amid the chaos of economic shock therapy, a group of engineers at a struggling defense plant in the city of Chelyabinsk saw the opportunity to apply its skills in the newly formed free market. The result was Metran, currently one of Russia's largest producers of measuring transmitters and home to American technology giant Emerson's Global Engineering Center. Metran employs over 1,000 people and, as owner of hundreds of Russian and international engineering patents, follows the motto "international quality at a Russian price."


Unfortunately, most of Chelyabinsk's metallurgical and defense-oriented factories did not make such a smooth transition to the free market. Industrial decay, outdated infrastructure, pollution and monotowns — cities that are economically dependent on a single factory — are major problems for the whole of Russia, but seem especially acute in the Chelyabinsk Region. Located 1,000 miles east of Moscow in the Ural Mountains separating Europe and Asia, the city of Chelyabinsk celebrated its 275th anniversary in 2011. During the Soviet era, parts of the region were closed off from the outside world because large clusters of tractor, weapons and metallurgical producers were concentrated there. Chelyabinsk also housed some of the country's most sophisticated nuclear weapons labs.
A future in education
Chelyabinsk governor Mikhail Yurevich wrapped up a weeklong visit to the United States in late 2011 with meetings in California and Illinois, where he fielded questions about Russia's investment climate and copyright laws from representatives of major U.S. corporations such as Google and Bank of America. The official was on a mission to convince American manufacturers to bring production to Chelyabinsk. Just as important to his region's future, Yurevich was also on hand to foster an internship program for Chelyabinsk State University students at various American companies, a program supported by the Washington, D.C.-based American Councils for International Education.
Privatization and the economic chaos of the 1990s hit Chelyabinsk hard. As state defense orders dried up, the city's heavy industries suffered; its few civilian products could not compete on the free market. By 1994, when foreigners were first allowed to visit Chelyabinsk, many factories had not been paying workers' salaries for months.


"It's hard to imagine there was only one hotel catering to foreigners in the '90s," said Dwight Bohm, an American executive who worked as general director of Metran after the company was purchased by Emerson. "I couldn't buy a single book to read in English in those days. Many people I met had clearly never seen a foreigner before."


Russia's 1998 financial collapse was followed by an economic boom, which fueled demand for Chelyabinsk's metallurgical products and raw materials. This in turn led to the development of a local service economy as stores, restaurants and boutiques sprung up to meet demand.


In 2010, President Dmitry Medvedev appointed 41-year-old lawmaker Mikhail Yurevich as governor of the Chelyabinsk Region. In 1997, Yurevich was named Man of the Year in Chelyabinsk at the tender age of 28 for his managerial skills at a local agricultural holding. The former businessman takes the public relations aspect of his new job seriously, traveling to the U.S., Europe, China and Japan to court investors. "We need a new industrialization in Chelyabinsk, or, in modern parlance, we need to attract investments," Yurevich said. "I'm not just talking about setting up new factories, but modernizing the industrial base. We have to catch up with developed economies."


Yurevich appointed Alexei Ovakimyan, 38, as his deputy for investment projects. Before taking on the job, Ovakimyan founded a successful private consulting company. "It was clear from most of our meetings with foreign investors that they had never heard of Chelyabinsk before. They didn't even know we existed," he said.


Read Dwight Bohm's interview:
Since 2008, the Chelyabinsk region has managed to attract an average of $3 billion in direct foreign investment annually, with a large chunk coming from Finnish energy giant Fortum Corp, which has an ambitious investment and production program in the region. "I found the problem was not a lack of interest among international investors — they're actively looking for projects in emerging markets like ours. The problem is a lack of creative ideas on our part," said Ovakimyan. "No more than 10 percent of the proposals we've received from local entrepreneurs seeking to attract capital were feasible."


The global financial crisis was another setback for Chelyabinsk's factories and mills. The most optimistic forecasts point to the region returning to its precrisis $23 billion regional domestic product later this year. "What we're trying to do is take advantage of the production capacity and facilities we already have instead of selling off plots of land for new developments," Ovakimyan said. Meanwhile, Metran's factory in central Chelyabinsk is already showing signs of preparation for a big 20th anniversary celebration this year.
All rights reserved by Rossiyskaya Gazeta.