Airbnb puts its brand on Russia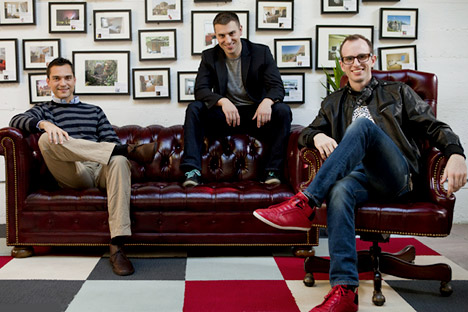 The Airbnb Russian team: Nathan Blecharczyk, Brian Chesky, Joe Gebbia (L-R). Source: Airbnb / Press Photo
After launches in a range of European, Latin American and Asian countries, U.S. alternative accommodation site Airbnb.com, is coming to Russia.
The embryonic Airbnb Russian team is headed by Eugen Miropolski, who formerly held senior executive positions at Fast Lane Ventures, KupiVip.ru, and Groupon Russia. During a recent visit to Moscow, Airbnb co-founder Nathan Blecharczyk sat down with East-West digital news to share his vision of the Russian short-term housing market and Airbnb's role in it.
East-West Digital News: Why is Airbnb entering the Russian market right now – not earlier, and not later?
Nathan Blecharczyk: Airbnb has been an international idea with an international emphasis from the very beginning. In late January, we announced 5 milllion guest nights bought, with 75 percent involving at least one party, either the host or traveler, from outside the U.S.
In a city like Moscow, our service can bring strong value. Not only do international travelers appreciate an alternative to expensive hotels, Airbnb will represent an interesting monetization opportunity for those who invested a lot in a Moscow apartment.
EWDN: Will Airbnb's offer be specific to the Russian market?
N.B.: We understand the need for tailored content. Some aspects, like payments, need a very specific approach in Russia, not to mention the local nature of marketing. Russia has been a little bit more difficult than other European countries in terms of adaptation, perhaps comparable to South America, but still less specific than some Asian markets.
That being said, we aim to offer users a seamless experience, which requires using our existing site. We will also capitalize on our international brand. It is, or will be, appreciated by both international travelers and Russian consumers, many of whom have a positive attitude to U.S. brands.
EWDN: Do you consider local alternative accommodation sites such as Apartator.ru, TravelRent.com, and Tvil.ru, as competitors, or as potential acquisition targets?
N.B.: These sites appeared relatively recently and still have small audiences. Having invested a lot in our website, we can deliver more value. Other international players may buy a local site and just put their own logo on it, but it cannot be as strong. So I don't necessarily think we're going to make any such acquisitions on the Russian market.
EDWN: Tell us a bit about your deployment plans in Russia
N.B.: We are focusing on Moscow first due to the high number of travelers and the need for alternative accomodation services; after Moscow, St. Petersburg is an obvious target. Then we'll be working with Ukraine and some other countries around Russia.
Russian regions outside Moscow and St. Petersburg aren't our first priority, but we will not neglect the strong opportunities represented by world-class events like the Sochi Olympic Games in 2014. In addition, there are a dozen of cities of with 1 million or more inhabitants in Russia that cannot be ignored.
In terms of service, we will offer a full-fledged local experience with a dedicated team and a 24/7 hotline. Our Russian team at the moment is small, but it will grow organically to about 20 people as early as next summer – mainly with Russian employees to ensure best local adaptation. The Moscow office will be responsible for expansion in Ukraine too.
EWDN: What amount did DST, the leading Russian fund, invest in your company, and for how much of a stake?
N.B.: They invested $40 million in the last round, with a total amount of $119.89 million invested in all rounds by different investors. Our pre-money valuation reached $1.3 billion in the last round, so DST's stake amounts to a little more than 3 percent.
EWDN: Does DST participate in Airbnb's operations?
N.B.: Although DST has a small team involved with Airbnb, it covers the globe. DST's team has been very helpful to us in miscellaneous situations, but not more so in Russia than in other areas. I have not doubt, however, that they will help as we develop further in the country.
Firts published in East-West Digital News.
All rights reserved by Rossiyskaya Gazeta.