Hvorostovsky takes on The Met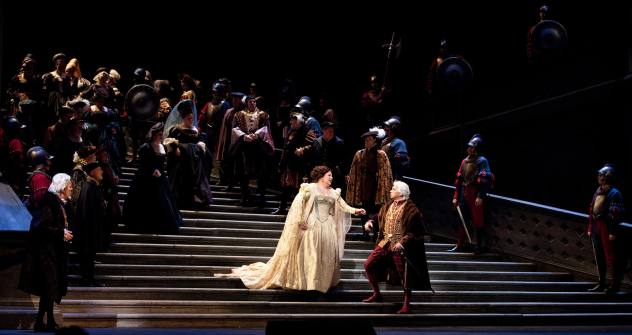 Dmitry Hvorostovsky's recent performance at the Met in New York. Source: The Metropolitan Opera / Press Photo
Beloved Russian baritone's acting stands out while his voice is overshadowed.
The Metropolitan Opera has revived one of Verdi's early operas, "Ernani" with a promising cast led by two well-known stars– Dmitry Hvorostovsky and Feruccio Furlanetto – and two younger talents, Roberto De Biasio and Angela Meade.
Italian tenor De Biasio took on the role of Ernani, an ill-fated and disenfranchised former nobleman with three passionate pursuits: the love of Elvira; the assassination of King Carlos of Spain; and the restoration of Ernani's title and honor. Ernani fails in each mission.
De Biasio's voice sounded much more youthful than his 43 years, but his overall portrayal of the hot-blooded youth was lukewarm. Despite having excellent command over his lush voice, he failed to convey any meaning, and sounded devoid of character and personality. Without the subtitles, one would have had no idea what he was singing about.
Russian superstar Dmitry Hvorostovsky, in contrast, offered personality and nuance in abundance. That is not to say that he exaggerated; his acting was a perfect example of great effect achieved by understatement. Just by a slow turn of the head or straightening of his back, he could instantly transform from an anonymous stranger to the king of Spain. However, the baritone's well-modulated voice was not nearly voluminous enough to fill the Metropolitan Theater, which seats close to 4000 and is one of the largest opera theaters in the world. Hvorostovsky's long breath and exquisite phrasing are inimitable and a delight to hear, but I am sure I was not alone in thinking that it would be much more satisfying to hear him in a smaller hall or a recording. Singing in ensemble with American soprano Meade, his voice seemed like moonlight compared to her strong sunlight. More beautiful, but regrettably overpowered.
Meade, who recently won the Beverly Sills Artist Award for her excellent performances at the Met Opera, returned to the stage as Elvira, which was also her debut role at the theater in 2008 when she replaced an ill singer at the last moment. Meade's reliably ample and capable voice was strong throughout the evening. Her Elvira was not a helpless, swooning damsel in distress in the face of circumstances beyond her control; she was assertive and tried to hold her own against the three men who controlled her destiny.
Dmitri Hvorostovsky in Verdi's opera "Ernani." Source: The Metropolitan Opera / Press Photo
Of the four main characters, Italian veteran bass Ferrucio Furlanetto was the most memorable and satisfying. He had both the fascinating presence and the commanding voice, as well as all the nuance of a complex villain. Compared to Furlanetto, the younger singers paled in comparison and one almost wondered if the opera should have been named after his character, De Silva. Ernani is just your average hot-blooded nobleman-turned-bandit, but De Silva's character is far more complicated. Furlanetto's portrayal of an old man bound by both a perverse sense of honor and revenge combined an intriguing mixture of hot temper and cold-bloodedness. His obsession with his niece Elvira did not seem to stem from mere greed or lechery, but genuine feeling – however selfish and unrequited the sentiment may be.
The performance could have been taken a notch higher if conductor Marco Armiliato had not weighed down the music at times. He seemed to hold back the singers occasionally, while he seemed to hurry through the last scene where De Silva demands Ernani's suicide. A statelier tempo might have given more gravity to the drama on the stage instead of making it seem like some totally absurd and outdated code of honor, which, in fact, it is.
The word outdated could also be applied to the sets, made in 1983 by Pier-Luigi Samaritani. Sweeping staircases dominated most of the scenes, grand and imposing, but they also seemed old-fashioned, especially combined with Peter McClintock's stage direction. It all reminded one of traditional opera in a bad way – palatial sets, sumptuous costumes and all the old gestures we have seen over and over again. A pity, considering all the vocal talent invested in this production.
Ernani runs through February 25th at New York's Metropolitan Opera. For more information, go to http://www.metoperafamily.org
Dmitry Hvorostovsky's recent performance at the Met. Source: Dmitrilover / Youtube
All rights reserved by Rossiyskaya Gazeta.