Putin's Kiss: Waking up to a nightmare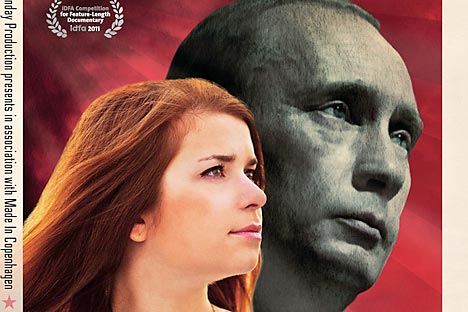 The documentary "Putin's Kiss," follows the trajectory of an unlikely friendship between a Nashi activist and an opposition journalist.
"Putin's Kiss," tells the true story of a teenage pro-Kremlin youth activist who slowly awakens to a nightmare. In the film, Danish director Lise Birk Pederson follows Masha Drokova over a four-year period. Drokova's ultimate fallout with the Nashi movement propels the film forward as she befriends opposition journalist Oleg Kashin, who became an international figure after his near fatal beating in 2010.
A Sundance honoree, the topical movie debuted in New York in mid-February. Pederson's film has its weaknesses, but it could not be more on topic regarding the fierce struggle for the future of Russia.
A wholesome looking teen from the central Russian city of Tambov, Drokova becomes attracted to the only active "subculture," as she calls it, which is the local branch of the state-created youth organization Nashi ("Ours"). Shortly after Masha moves to Moscow, she somewhat mysteriously gets one of the highest positions in the organization. She is also a spokesperson for the movement, working closely with then-Nashi leader Vasily Yakemenko and Deputy Prime Minister Vladislav Surkov, who is known as the architect of the centralization of power and "sovereign democracy."
Occasionally, Drokova meets with the president and then Prime Minister Vladimir Putin himself. She has an apartment, a car and hosts her own cable TV talk show. At one of Nashi's events, she kisses Putin, giving the film its catchy title.
Unfortunately, Drokova's conversations with friends and family appear staged and unnatural. And Pedersen's straightforward, but jarring editing technique moving from gleeful teenagers attending Nashi's summer camp at Lake Seliger to CCTV footage of the brutal assault on Oleg Kashin is less than sophisticated.
Still, "Putin's Kiss" is engaging and at times powerful; brief portraits of Russian teenagers are captivating. Pederson captures the animation and excitement of the kids from the regions brought to Moscow, in hundreds of buses, to occupy the capital's squares in rallies supporting Putin and his party United Russia. The students finds entertainment, if not always purpose, in burning books and heckling opposition leaders, or, as they put it, "shame of the nation."
Two young thugs (allegedly, members of Nashi), defecate on a car belonging to Ilya Yashin from the Solidarity democratic movement. A few remote-controlled dildos hover in the air while Garry Kasparov gives a speech. The director leaves it up to the viewers to decide if these hecklers are Nashi or not.
Oleg Kashin, an opposition journalist. Source: Kinopoisk.ru
Oleg Kashin in recent years has become a strong voice of the opposition and the friendship between Masha and Kashin leads to her increasing disillusionment with the actions of the group.
Kashin was brutally attacked with iron bars and left for dead in 2010. His injuries were so severe that doctors induced a coma. As he recovered, Kashin accused Nashi leader Vasily Yakemenko of ordering the assault, and Yakemenko sued him in a defamation case. More than a year later, there have been no arrests made in the case.
Source: Youtube / kinolorber
In his blog at Seance.ru, Kashin compares "Putin's Kiss" to the acclaimed documentary "Khodorkovsky" by German director Cyrill Tuschi, which was highly praised at Berlinale 2011 and had a limited distribution in the United States and Russia at the end of last year.
"Putin's Kiss" and "Khodorkovsky" have a lot in common besides the heat of their politics.
Both films are a bit naïve and black-and-white. Unlike Cyrill Tuschi, however, Lise Birk Pedersen managed to represent the two opposite sides, keeping in mind that Mikhail Khodorkovsky's antagonist is a bit harder to get a hold of. "Khodorkovsky" had some difficulties with distribution in Russia after a few theaters suddenly decided not to show the film. The future distribution of "Putin's Kiss" is not yet known, but the popularity "Khodorkovsky" may be a positive for the chances of "Putin's Kiss."
---
In the United States, "Putin's Kiss is playing now at Manhattan's Cinema Village. It will be showing at the CMU International Film Festival in Pittsburgh; the Museum of Fine Arts, Houston and the Wisconsin Film Festival in Madison. For more information, go to http://www.putinskissmovie.com/playdates.html
In the United Kingdom, "Putin's Kiss" will be shown on March 3rd at the Rich Mix centre in Shoreditch, London, along with 3 other outstanding documentaries that shed light on today's Russia: "Putin: The Leap Year", "Khodorkovsky" and "Our Newspaper".
All rights reserved by Rossiyskaya Gazeta.