Curing Illness with Laughter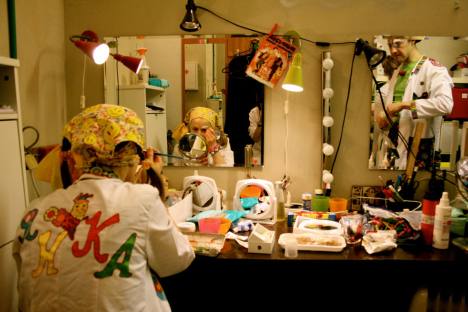 In the antiseptic world of the hospital, surprises and distractions are rare. For children suffering from serious illnesses, the laughter brought about by doctors dressed as clowns can be an effective remedy
The doctors from the Doctor Clown Association cure the kids in the Moscow Children's Hospital with the laughter. Source: Clémence Laroque
It's Saturday at the outpatient clinic of the Moscow Children's Hospital. Agitation prevails. The dressing room is packed with red noses, funny balloons, streamers and soap bubbles. Clowns are carefully putting on face paint in a mirror. Joking and kidding around, the clowns gradually get into their parts. A few brave kids furtively adventure as far as the dressing-room door, which is quickly shut. "We accept clowns from the region for training in the capital," said Ivan, 30, as he turns into Doctor Flint. He has never really been afraid of being with sick children, "I've always wanted to work with children. Whether they are ill or not, they are still children. In reality, you just need to spend a minute or so at their bedside to forget their disability."
For Ivan, the opportunity of becoming a member of the Doctor Clown Association came about two years ago when French clowns from Le Rire Médecin association arrived in Moscow to celebrate the year of friendship between France and Russia. "When the French clowns visited Moscow hospitals, we became aware of the extent to which our vision of the job of hospital clown was different from theirs. We would organize events and perform magic tricks but the French were true clowns," said Elena Grushina, director of the Doctor Clown Association. Over the following months, the Russian company totally reorganized and reviewed its methods. "We had to start again from scratch," Grushina said. "We did not necessarily want to become carbon copies of the French clowns, but we were aware that they had a different approach and that's why we trained alongside them. And we continue to do so."
In the land of clowns
In the land that bred such famous clowns as Karandash, Oleg Popov and Slava Polunin, training hospital clowns and obtaining recognition for them was not an easy task for the association, which is composed entirely of volunteers. It is precisely because they are volunteers that professional clowns did not always take them seriously. Problems also arose within the hospitals, where administrators did not much like the idea of red noses being poked into their wards. "In Russia, hospitals rarely bring in outsiders, such as clowns. Two years ago, this was far from being a priority for them but today, we are fully accepted," said Ivan.
Four years after its creation, the association consists of 40 or so volunteers – mainly, but not exclusively actors, pediatricians and doctors. Ivan is a businessman, but on two Saturdays a month he swaps his computer for his clown costume. "I've shared magic moments with these children," he said. "But there are also less happy ones. The parents who chaperone their kids through this traumatic time for them sometimes get irritated by our antics. They need to let off steam and they use us to do so, but that is understandable.. Nowadays, the Doctor Clown Association works in Moscow, St. Petersburg and Yekaterinburg and will soon be invading hospitals in Volgograd and Novosibirsk. Grushina stresses that they get much more financial support than they did at the start of the venture, although funding is still inadequate.
For more information (in Russian) visit the association's web site :www.doctor-clown.ru
All rights reserved by Rossiyskaya Gazeta.