Kudrin to create fund for reforms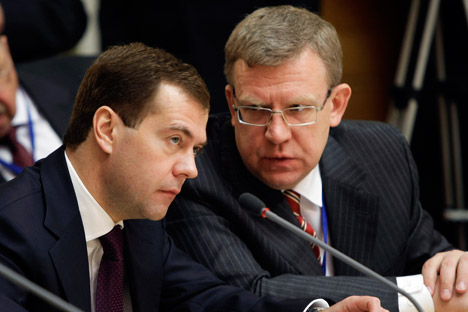 Russia's President Dmitri Medvedev (left) and former Finance Minister Alexei Kudrin (right). Source: ITAR-TASS
With the creation of a new fund to promote economic reforms, Alexei Kudrin indicates that he will continue to oppose Dmitry Medvedev even after the current president becomes prime minister.
Former Finance Minister Alexei Kudrin, who resigned from his post following a series of disagreements with President Dmitry Medvedev, has announced plans to create a fund to promote economic reforms.
In a tweet about his plans, Kudrin wrote: "I shall propose legislation that must absolutely be approved, and I shall also support reasonable initiatives."
Kudrin added that the reforms could be seen as a response to the demand of many protestors for an increase in civil society initiatives.
The fund is not yet registered, but the documents are ready and will soon be filed, according to a person familiar with the deliberations: "The chosen format is a nonprofit organization," the source said.
The goal of the fund is to professionally select or initiate civil initiatives and bring them together with investors, said the source, adding that the main goal is to discuss the creation of the laws necessary for reforming Russia's economic system.
The fund could be seen as working in opposition to the government, said a senior government official. "Kudrin, although he resigned, still has considerable authority that he can exert. He also used to criticize constantly, but usually behind the scenes; he will now be able to do so publicly," said the official. In the official's view, Kudrin understands the logic of necessary changes, and "once he decides to do something, he will do it systematically."
The decision to create a non-governmental organization was a wise move, according to an official of financial and economic government agency, since such a fund will be a public body, free to cooperate with other social organizations and regions. One drawback, however, is that the fund itself will not be able to propose any of the laws it may formulate; draft laws may be introduced to the Duma by parties, parliamentary deputies, business associations, and the ministries themselves.
Such a fund does not require high costs, said an unnamed source within a large university — only the salaries of a small staff and experts. The fund will raise money, the source said, calling Kudrin "one of the best fundraisers in the country."
"Kudrin knows very well how to do it; he has plenty of connections in the country and around the world," added the source.
The fund's activities will not prevent Kudrin from supporting the creation of a new political party, said Yevgeny Yasin, scientific director of the Higher School of Economics. In his view, the creation of a party is being delayed because the issue of leadership has not been resolved; Mikhail Prokhorov has not yet elaborated his plans.
First published in Vedomosti.ru
All rights reserved by Rossiyskaya Gazeta.