Ant king: Revealing the insects' life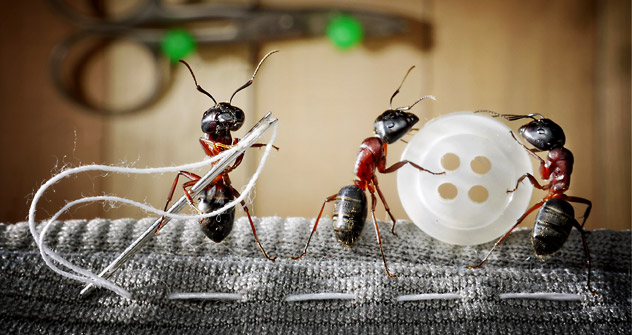 The ants, captured by Russian photographer Andrei Pavlov, look more like Lilliputians, or really short people, rather than insects. Source: Shutterstock / Legion Media
A polar explorer found a new life taking a closer look at his backyard.
Bernard Weber's trilogy "The Ants" was a hit in Russia in the mid-1990s. The critics attributed its success to the combination of the author's innovative style and the undying theme of struggle, coexistence and ongoing comparison of two communities: people and ants. "The Ants" is a favorite of Andrei Pavlov – a Russian photographer who has dedicated seven years of professional interest to the insects.
When Pavlov graduated from the Arctic Faculty of the Admiral Makarov State Maritime Academy, he could not imagine himself being anything but a polar explorer. Expeditions, aurora borealis, and snow-covered icebergs lay ahead. Fate, however, willed otherwise.
When his limbs became almost entirely paralyzed due to a spinal injury, Pavlov's days and nights at the Severny Polyus (North Pole)-28 drifting ice station came to an end. His life changed dramatically, and the thousands of miles he used to cross so easily became a thing of the past. Pavlov does not even like to remember his Arctic experience now: "I don't care for expeditions, and iceberg photos are so last century."
"I studied the ins and outs of digital photography on a square meter of grass beside my country house, with all its inhabitants included. And I was fascinated by them. It was actually the ants that helped me get through the critical situation," Pavlov said.
Antrey, or the ant king, is Andrei's username on the Russian Internet, where he first became famous for his series of macro photos "Ant Stories" – scenes in which ants posed in pictures or performed actions that could be quite human. It is posed photography with live characters. In fact, Antrey's photos are not exactly macro on a classic 1:1 scale; his works also include portraits and landscapes. And the ants he captures look more like Lilliputians, or really short people, rather than insects.
The red wood ants, Formica Rufa, that inhabit an anthill some 50 yards from the photographer's house have been the main characters in his photos for six years now. "The ants never veer off established paths: this way, you can easily make yourself comfortable 'on the roadside' without tramping on them or being bitten," Pavlov explained. In order not to disrupt the daily routine of 'the cast,' the scene is usually laid out right in the middle of the path, while flash lighting, backdrops and reflectors are planted into the soil on wire legs. When I cannot walk, I take my photos right near my house. I have no problems with the settings or props: I usually live in my country house from May to October, so I have plenty of time to build it."
According to Antrey, capturing the attention of the ants is not difficult: demonstration of a dummy prey or enemy will do it. In time, it is possible to manage a whole company. If he fails to talk an insect into doing a trick he has in mind, there are others who can easily replace it. Yet not all actors are equally good: the photographer dismisses fatheads and loafers.
"It took me two or three years to establish contact with them. As I watched the anthill, I got the idea of what pictures to take and how to take them", Andrei elaborated. "I even imagine sometimes that they recognize me. We can all learn a lot from them: a community that takes care of its weak, cripples and pensioners surely commands respect. Over its 150 million years of history, this biological civilization has developed plenty of environmentally friendly ways to sustain life and survival strategies. So far, it is unclear which civilization will eventually prove more viable – that of humans or ants. The main difference is that the ants cannot destroy."
All rights reserved by Rossiyskaya Gazeta.