Obama to host Putin at Camp David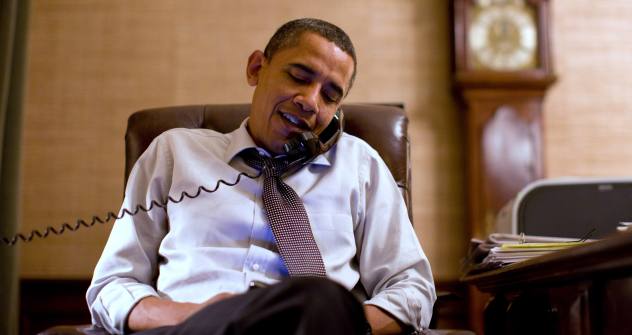 U.S. President Barack Obama is going to invite Russia's President-elect Vladimir Putin to discuss the nuclear weapon reduction. Source: AP
Nuclear arms reduction almost certain to be on the agenda when the presidents meet in late May.
Vladimir Putin will have his first meeting with Barack Obama in his capacity as president at the U.S. president's residency Camp David in late May. The U.S. president's comments at the nuclear summit in Seoul, South Korea, implied that the agenda will focus on nuclear arms reduction.
Speaking in front of students in Seoul, Obama said he intended to discuss arms reductions with his Russian counterpart, and Deputy National Security Adviser Ben Rhodes confirmed that while in Seoul the U.S. president had offered to start talks on reducing non-deployed strategic nuclear warheads and tactical nuclear weapons. To be sure, the issue of American missile defense deployment, which Moscow considers to be the biggest threat to its security, will get its share of attention.
In December 2010, while ratifying the New START treaty, the comments coming out of the U.S. Congress indicated that the next move in arms reduction would be to cut tactical nuclear weapons stockpiles. In February, the U.S. media reported that the Obama Administration was preparing new proposals on strategic arms cuts. Various options are on the table for potentially deep cuts of deployed long-range nuclear weapons, including the possibility of bringing down the number of deployed warheads. Currently each nation is allowed up to 1,550.
Putin's reaction to this information was unequivocal: "further steps (in the nuclear security field) must be comprehensive in character, and all the nuclear powers should be involved in this process. We cannot disarm endlessly while some other nuclear powers are arming themselves. That is not an option." In other words, future disarmament talks can only be multilateral.
There is one other aspect. Putin made it clear that nuclear disarmament must not be used to achieve superiority in other types of weapons. He stressed that Russia must achieve parity in the field of precision weapons, which have potential comparable to that of weapons of mass destruction. "We will only give up nuclear weapons when our forces have such complexes," Putin said.
What's more, Russia is insisting that offensive weapons reductions be linked to American missile defense plans.
This is not to say that the Camp David meeting is doomed to failure. Actually, Obama's private comments to Medvedev, picked up by a live mike, had a note of optimism. Obama asked Medvedev to pass on to Vladimir Putin a request not to press too hard for a solution to the missile defense problem. The U.S. president said: "On all these issues, but particularly missile defense, this, this can be solved but it's important for him to give me space. This is my last election. After my election I have more flexibility."
At first glance, the comments were a gift to Obama's rivals in the presidential race. Republican frontrunner Mitt Romney, criticized Obama for being soft, calling Russia America's "number one geopolitical foe." Surely, Romney, who, according to the latest polls, trails Obama by 10 percent, needs such exercises in rhetoric.
But it turned out that most Americans consider Mitt Romney's words about Russia more provocative than Obama's remarks on the fringes of the Seoul summit. This much is clear from the results of a Chicago Tribune and U.S. News poll in which 72 percent of respondents said that the remarks of Romney did more harm than Obama's.
It is also important to bear in mind that all the major U.S. initiatives on building up or reducing strategic arms are the joint product of Republicans and Democrats. Democrat Bill Clinton in 1996 resurrected Republican Ronald Reagan's plans to create a missile defense system and George Bush Jr., a Republican, carried them so far as to withdraw from the 1972 Anti-Ballistic Missile Treaty and to start building up position areas for anti-missile defense in Poland and the Czech Republic. For his part, Democrat Obama used an "adaptive approach" that would allow Russia to take part in the creation of a European missile defense system. The differences are only in tactics, speed and the sequence of moves.
Even so, Obama's off-hand remark shows that the White House is, in principle, committed to negotiating. And the confidential tone of the conversation is precisely what Russian-American relations have lacked during the past year. In any case, it is clear that nobody stands to gain from confrontation.
All rights reserved by Rossiyskaya Gazeta.