Golden Mask, the reward for the finest in creative theatre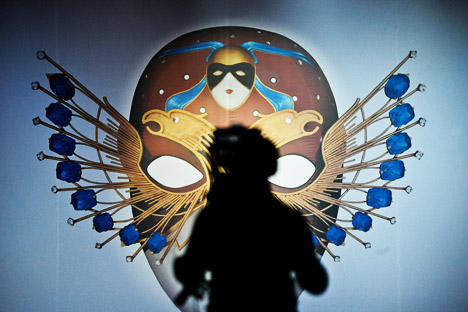 The Golden Mask, Russia's major dramatic arts festival. Source: ITAR-TASS
Only the language barrier prevents Russian drama from being exported around the world. The Golden Mask Festival provides an opportunity to explore the theater of tomorrow.
The Golden Mask, Russia's major dramatic arts festival, is a testament to the powerful effervescence of Russian theater. With every passing year, the festival takes on an increasingly international dimension, its extensive competition featuring operas and ballets that will be sent on tour abroad.
This year, this most prestigious of Russian festivals opened its doors on March 27 and will end on Apr. 16 with a prize-giving ceremony on the stage of the Bolshoi Theatre. Fifty-one productions from 13 Russian cities will be competing for the prizes in several contests that are held simultaneously. This year, out of the 183 participants in the festival, 16 competitors are foreign, including the producers Claudia Solti (United Kingdom) and Daniele Finzi Pasca (Switzerland), both of whom have been nominated for productions staged at the Mariinsky Theatre in St Petersburg.
In the 18th Golden Mask, 11 operas will be competing, one of which, "Dead Souls" by Rodion Shchedrin, is a contemporary production based on the classic story by Nikolai Gogol. It is interesting to note that Moscow's Bolshoi Theater received only one nomination, compared to three for its eternal competitor, St. Petersburg's Mariinsky. A renaissance in lyrical art comes from Kazan, Yekaterinburg and Astrakhan. Nominations in the ballet category remain monopolized by Moscow and St. Petersburg, but ballets from the cities of Perm and Novosibirsk attracted the attention of the selection committee. The festival is very much aware of modern creativity and has introduced a special category for contemporary dance.
The nerve center of the Golden Mask nevertheless lies in drama, first and foremost because the festival's founder, Edward Boyakov, himself a theater director, has devoted all his energy to the theater. Boyakov has been a central figure on the Russian theater scene for the past two decades and favors innovation. He is a merciless critic of the decrepit state theaters that continue, despite every effort, to monopolize subsidies. The selection for 2012 features 17 drama productions, almost all of them avant-garde, as well as three puppet shows and four performances that defy classification. They include, first and foremost, "Simone's Body" a play by Polish dramatist Krystian Lupa based on the life of the philosopher Simone Weil; "Pass Me a Light," a view of American rock digested by disoriented Russian youth and "The Thugs," a political play by the novelist Zakhar Prilepin, directed by Kirill Serebriannikov, the most talked about of the Russian dramatists.
All rights reserved by Rossiyskaya Gazeta.