Skepticism regarding China's intentions has hampered economic integration in Russia's Far East, yet trade is booming and locals point to pockets of progress.
The Far Eastern Russian city of Blagoveshchensk witnessed a fireworks display the night after Vladimir Putin was elected President in March. But the fireworks didn't come from Russia – they were launched on the south bank of the Amur River, which separates Blagoveshchensk from the Chinese city of Heihe. Chinese authorities decided to celebrate the electoral victory of Putin, whose time in power, both as president and prime minister, has overseen a five-fold increase in bilateral trade over the last decade to $70 billion (this number is predicted to his $200 billion by 2020).
Few places in the world offer quite as sharp contrast between European and Asian civilizations as the five-minute bus ride across the frozen Amur, which during a short summer can be traversed by hydrofoil. And contacts between Russians and Chinese living are becoming more frequent because of a visa-free travel for local tour groups.
"I'm going to rest and buy some stuff," exclaimed Valery, a tall, burly and boisterous 40-something Blagoveshchensk native as he eagerly boarded the bus to make the journey across the Amur. Heihe boasts shopping malls, saunas, restaurants, dentists' offices and teashops, all offering their wares in Russian to cater to visiting tourists with rapidly growing incomes. Even the street signs are bilingual.
Not everyone is happy with the boom on the Chinese side. "They used to have a small village over there with huts and dirt roads," recalled Nikolai Kukharenko, lifetime Blagoveshchensk resident and head of the local Confucius Institute (a Beijing-based NGO that promotes Chinese language and culture at academic institutions around the world). "Now there are more skyscrapers on that side than here. A lot of locals are concerned that they've advanced economically at our expense."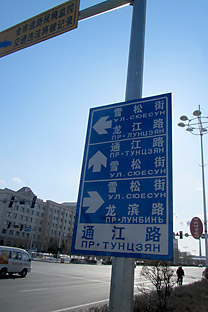 Heihe. Bilingual signs - sometimes with broken Russian - make any tourist feel at home. Source: Artem Zagorodnov
Local papers abound with near-daily stories of Chinese poachers being caught smuggling everything from protected timber to rare tiger pelts. The vast majority of the burgeoning trade between the two neighbors is raw material exported from Russia and manufactured goods imported from China. The nature of the economic relationship is symbolized by the East-Siberian-Pacific Ocean (ESPO) pipeline, which ships Russian crude oil to fuel China's factories.
An enduring wariness about China's success has led many locals to lament that increasing numbers of young people in Russia's border regions see their academic and professional future depending on China and other neighboring countries. "I think it's our usual Russian paranoia," said Kukharenko.
"It's true there's a growing interest among the younger generation in learning foreign languages, including Chinese, but this is true of almost every country. Students here want to study abroad and broaden their horizons through foreign cultures just like everywhere else. I can count only a few who want to move abroad permanently," he explained.
Yet this suspicion has led to economic and political obstacles for the several thousand Chinese citizens permanently residing in Russia. Dima (name changed) is an owner of several Chinese restaurants in Blagoveshchensk in his late 20s. "I'm not allowed to own this property because I'm not a Russian citizen," he explained in heavily accented Russian. "The owners and authorities know that and take advantage. They'll arbitrarily raise rent and evict me if I don't agree."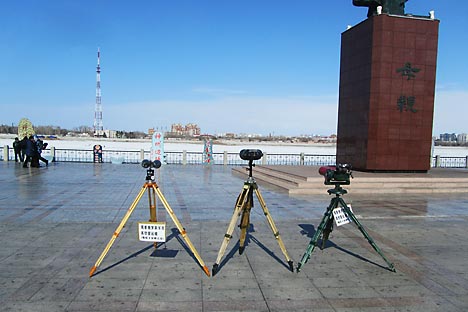 For a token price you can peer across the Amur river into Russia from the Chinese side. The Chinese city of Heihe. Source: Artem Zagorodnov
Offer the Chinese Europe and the Dinosaurs
Some Russian officials have begun to think about how they can change the economic relationship. Igor Gorevoy, the recently appointed Economy Minister for the Amur Region, said he would like to start attracting Chinese consumer spending as well as their cheap consumer goods.
"The way I see it, there's no way we'll be able to out-manufacture the Chinese," he explained over tea in his posh office in downtown Blagoveshchensk. "Their products are cheaper and better. We have to look at our competitive advantage, and offer them the one thing they can't produce."
Dinosaur Cemetery
Dinosaur remains were first discovered on the right bank of the Amur river in the early 20th century. In 1911, some excavated skeletons were taken to St. Petersburg and put on display at the Museum of the All-Union Geological Institute. For many years after that excavations ceased, until a Russian-Belgian team returned to the site in 1999 to discover the complete skeleton of a platypus mammoth (10 meters in length). Since then the area has been designated a federal monument as several more unique species have been unearthed.
Gorevoy's plan is to attract some of the 100 million-plus potential tourists with rapidly rising incomes who live just across the river. "Actually many of the ideas came to us from a Hong Kong businessman visiting Blagoveshchensk," recalled Gorevoy. "He said convincing some international giants to build hotels here should be relatively easy, and the tourists will flock."
Gorevoy's vision is based on the notion that the Chinese see Russians as a European people and are eager to "visit Europe" when it's so close. "If we set up a few Eiffel Tower mock-ups, a Big Ben and some basic infrastructure for a leisurely family vacation, they'll be eager to visit," he explained.
Gorevoy hopes that a boom in tourism and service industry jobs will keep young people in Blagoveshchensk. He has spent much of his first six months in office obtaining permits for commercial construction along the border. Development in border areas is sensitive and controlled in Moscow because it can be a matter of national security.
But the first signs of progress are already evident. Cranes and trucks now dot the Russian side of the Amur as Gorevoy's "Golden Mile" of Ferris wheels and hotels begins to take shape. The minister is discussing the possibility of a pedestrian bridge or aerial lift across the Amur.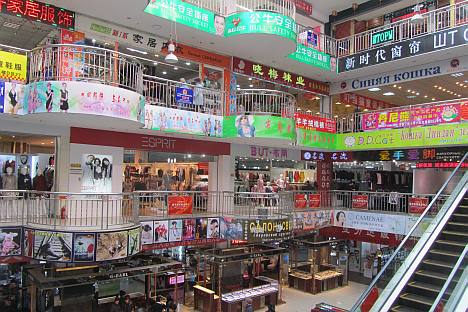 Shopping malls in Heihe cater to Russian tourists with bilingual personell and signs. Source: Artem Zagorodnov
Blagoveshchensk is also famous for having some of the world's best-preserved dinosaur remains, and by 2015 the Amur Region will host Russia's main spaceport, which is currently under construction. Exclaimed Gorevoy: "It's our Cape Canaveral. This is world class stuff."
All rights reserved by Rossiyskaya Gazeta.