Mayoral race results in hunger strike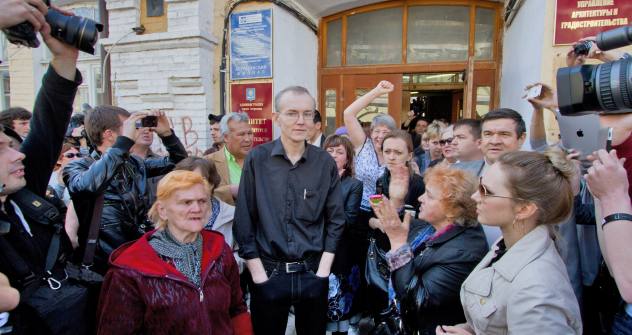 Astrakhan's recent mayoral elections ended up with a hunger strike orchestrated by opposition activists. Source: Kommersant
The opposition in Russia continues its crusade for free and fair elections. Its latest high-profile action is a hunger strike in the southern Russian city of Astrakhan.
Former State Duma deputy and city mayoral candidate Oleg Shein and his supporters are demanding a revote in the recent race for city mayor, which resulted in the victory of United Russia's Mikhail Stolyarov. The results show Stolyarov with 60 percent of the vote and Shein, a member of Just Russia, with 30 percent. Stein's campaign is arguing that the elections were rigged. Their main argument is that the official results differ widely from those of exit polls, which showed Stolyarov losing.
Activists claim that numerous violations occurred during voting. For example, in some polling stations, ballots marked for Shein were lying in the stack of ballots allegedly cast for Stolyarov. The activists are continuing to gather evidence to prove their point. Their primary demand is access to video recordings from more than 100 polling stations; at the moment, they have recordings from only 22 stations. At the same time, the Central Election Commission is conducting its own investigation. It has examined 16 recordings, and each of them showed violations. A State Duma commission visited Astrakhan and determined after looking at the voting materials that if the facts presented by Shein are confirmed, another mayoral election will be needed. The Presidential Human Rights Council has also criticized the Astrakhan elections, describing them as a flagrant violation of the law.
This is not the first time that Oleg Shein and his supporters have challenged the results of mayoral elections. Three years ago, mass protests erupted in Astrakhan after a mayoral vote. At the time, Shein claimed, "combat troops broke into election commission buildings" in order to change the final figures. The authorities paid little attention to these rallies, however, and they eventually petered out.
Sixteen people, including Shein, have been on hunger strike for almost a month now. Although doctors are concerned for their health, Shein said he "feels well enough to carry on a bit longer."
Many members of other protest movements have responded to the action. Opposition leader Alexei Navalny traveled to Astrakhan and called on his supporters to follow suit. "This is the least we can do to show our solidarity. Otherwise, what is the worth of our vows 'one for all and all for one?'" he wrote on his LiveJournal account. In Moscow, the action is backed by Left Front head Sergei Udaltsov. He and his supporters promised to join the hunger strike and hold pickets in front of the Astrakhan Region's offices in the Russian capital.
Top government leaders have made no statements on the case. Stanislav Kucher, a political columnist for Russian daily Kommersant believes that the authorities are still deciding what image they want to project to the population, and above all to the protesters. "This is a choice personally facing the future president. On the one hand there are many voices urging Putin, 'Don't give in! If we show weakness now, tomorrow the whole nation will start calling hunger strikes on every occasion,'" said Kucher. "On the other hand, I know for sure that some of the people around him are saying: 'Ordering a prosecutor's inspection and even a rerun of elections is not a sign of weakness but of strength. This is the only way for you to show the people that you are ready for reforms and yet have everything under control.' In short, Putin's behavior with regard to the Astrakhan crisis will show how strong he really is."
United Russia State Duma deputy Vladimir Burmatov is confident that nothing needs to be done about the Astrakhan situation, which he described as "silly." "Going on a hunger strike is Shein's fatal mistake that ruins his chances as a politician," Burmatov said. "Yes, there were violations, but they are not serious enough for the results to be cancelled. Instead of conceding defeat calmly and continuing to work with an eye to the next election cycle, he stops eating and marginalizes himself and most importantly, he puts a tablet on his chest proclaiming: 'I lost the elections and I refuse to eat.' This is deadly for a politician."
The activists have not said how long they will be on hunger strike. They say the action will continue until they get videos from all the polling stations. However, several people have already started eating again on the recommendation of their doctors.
All rights reserved by Rossiyskaya Gazeta.