Dances and friendship at the Russian Embassy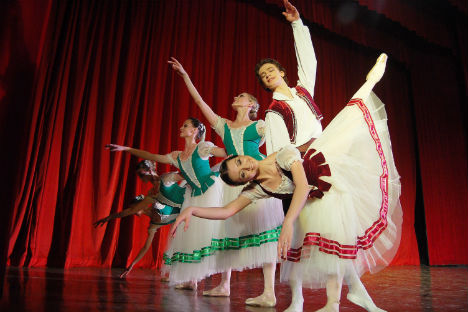 Russian ballet troupe Gzhel. Source: Salvia Group of Companies
After celebratory events in Russia dated to the 65th anniversary of Indo-Russian diplomatic relationship, the Russian Embassy in India held a state reception crowned with a beautiful performance by the Russian ballet troupe Gzhel.
On April 13, India and Russia marked 65 years since the establishment of diplomatic relations. In Moscow, there were a whole series of celebratory events with distinguished Indian guests. Russia has also released an anniversary postal envelope dedicated to this date. Then the Russian Embassy in India picked up the baton: here they held a state reception. Indian and Russian diplomats, businessmen, representatives of public organizations, and the local intelligentsia were invited to the evening gala. The main guest was H.E. Mr. Ranjan Mathai, Foreign Secretary of the Government of India.
Russian Ambassador to India Alexander Kadakin and H.E. Mr. Ranjan Mathai, Foreign Secretary of the Government of India, made congratulatory speeches. Over the course of the evening, guests were shown a film about the relationship between India and Russia, the Russian ballet troupe Gzhel performed, and a gala dinner was held.
"Today we are celebrating 65 years of diplomatic relations between India and Russia. It's unusual that this date when we established a relationship with great India was before it even officially cast off the colonial yoke," Mr. Kadakin told RIR. "Diplomatic relations were established in April, and its independence was proclaimed on August 15. Over the past six-and-a-half decades, so much has been done… In addition, it is gratifying that the relationship between the two countries has remained so young, so fresh, so active throughout all these decades. And we are looking confidently into the future. We have a very good foundation: a declaration of strategic partnership."
Among the guests at the Russian Embassy were high-ranking diplomats who worked in Russia and it might be said wrote the history of Indo-Russian relations. RIR asked them to share their impressions.
Mr. Krishnan Raghunath, who served as ambassador in Moscow from 2001–2004, noted in a conversation with an RIR representative that the most valuable thing about the current anniversary is the fact that Indo-Russian relations are not static, but continue to develop successfully.
And according to Ambassador Vidya Bhushan Soni, who worked in Russia for several years, "India has always derived satisfaction from its special relationship with Russia and in earlier times with the Soviet Union… After the Treaty of Friendship in 1971, our relationship has only gotten better. Russia is the only country that before we gained independence, after we gained independence, and today has continued to provide assistance and moral support. We maintain good relations with many countries, but Russia is a special country: today, everyone is coming to India, everybody wants to have relations with India, but for a long time there was only the Soviet Union and Russia… and we are proud to celebrate 65 years of excellent relations."
In the words of Mr. Ajay Bisaria (Joint Secretary, Eurasia Division, Ministry of External Affairs, Government of India), "We are indeed quite widely celebrating this occasion. We already marked it in Moscow, when our Minister of External Affairs Somanahalli Mallaiah Krishna was there, and now we've got a wonderful celebration from Ambassador Kadakin with the ballet company Gzhel…"
Mr. Bisaria also believes that "over the past six-and-a-half decades, there have been so many important milestones in our bilateral relations, such as the Indo-Soviet Treaty signed in 1971, after which there were many other different agreements, and in 2000 we signed a strategic partnership agreement. We're going to continue to celebrate our anniversary and hope for a great future for our relationship…"
The highlight of the evening was the performance by the unique Russian ballet troupe Gzhel. As Vladimir Zakharov, Ph.D. in Study of Culture, artistic director and chief choreographer, told RIR, "Gzhel Theatre is the only ballet company in the world that works simultaneously in three areas: folk dance, modern, and classical ballet." According to Mr. Zakharov, "The theatre adheres to the concept of continuous choreographic education, for which it has created its own cultural complex: a choreographic school, an institute of dance, and the theatre itself." Mr. Zakharov told RIR that his theatre doesn't set out to compete in the field of classical dance with the large theatres that have great big performances… "The purpose of the collective is to acquaint the viewer with half-forgotten and forgotten choreography. So within our walls, works like 'The Duet of Butterflies' to Offenbach's music in Marie Taglioni's (19th century) version, Bellini's 'Pas de Quatre,' 'La Vivandière,' and Anna Pavlova's 'California Poppy,' have all gained recognition again."
Gzhel Theatre came to India upon the invitation of the Russian Embassy in India and RCSC. It was decided that here they would demonstrate the Russian school of classical ballet, which has long been known and loved in India.
And after the Russian ballet, guests were offered a dinner, where the tables were set with Russian vodka.
All rights reserved by Rossiyskaya Gazeta.