Russian films look abroad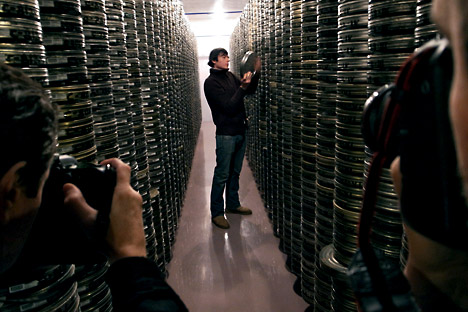 The State Fund of the Russian movies. Source: Kommersant
The Russian cinema industry is seeking a strategy for exporting its films more effectively. Some of the solutions proposed by Fond Kino ('the Cinema Fund') involve reducing prices, improving training and stimulating co-productions.
''Russian cinema labors under a dual handicap: a lack of demand from abroad and poor marketing,'' said producer Yevgeny Gindilis during a round table discussion held in Moscow at the end of April. At the event, Elena Romanova, the director of Fond Kino, a state boyd responsible for promoting Russian cinema, said: ''We want Russian cinema to be shown to the foreign masses. We want to see our stars on European screens and in American productions.''
That's still a long way off. The presence of Russian films in foreign cinemas is still minimal. Apart from a few rare art and experimental films such as ''Elena'' or ''Faust,'' which won prizes at major international festivals, and consequently enjoyed a wider distribution, Russian films remain confined to home territory. Movies that are popular at home have been stamped ''unexportable' and most art and experimental films have fallen under the radar of the international distributors.
Fond Kino has launched several initiatives in an attempt to remedy the situation. There will be a Russian Cinema stand at the Cinema Market to be held on the sidelines of the Cannes Film Festival from May 16 to 27 featuring the latest Russian films. These include ''Dukhless,'' an adaptation of a popular novel; ''The Queen of Spades' ( Pavel Lungin's latest film); and ''Baba Yaga,'' A Franco-Belgian-Russian co-production in 3D animation produced by Dan Creteur with a budget of 15 million euros ($20 million).
The presence of the film 'In the Fog' by Sergei Loznitsa in the main selection for Cannes this year could possibly turn the spotlight back on Russian cinema. ''It's a highly talented film,'' said Andrei Plakhov, president of FIPRESCI, the international federation of cinema critics. ''In the Fog is a throwback to the era of classic Soviet cinema and will not cause a scandal.'' Romanova addes that 'In the Fog' has ''found an international distributor already and Fond Kino is willing to help the film if it has difficulty finding distribution in Russia'.
Another initiative, entitled 'Red Square Screenings, will invite in inviting the main players in the international film industry to attend private screenings in Moscow from Oct. 15-20. The screenings will be held at GUM, the famous department store facing Red Square. ''Cinema is not a simple product, it is an essential part of our culture,'' said Gindilis. 'That is the reason why we created the Red Square Screenings. It ought to be the ultimate instrument for promoting our movies abroad. We need to offer guests maximum comfort. Competition is very fierce, which is why we need to promote Russian cinema in an outstanding way, just a stone's throw from Red Square.''
Those involved in the Russian cinema industry recognize that they have a lot to do at home before they can achieve their goals. 'We need tax incentives for producers and distributors', stresses Romanova, adding that the Russian industry receives less favorable treatment than that of countries such as Canada or France. Everyone stresses the urgency of improving training for the professionals. 'The current crisis was caused by a shortage of skilled operatives,'' said Ilya Bachurin, director-general of film studio GlavKino. ''There needs to be far more exchange initiatives with studios abroad and we need to encourage foreign films to be shot over here. We don't just need finance, we need skills as well.''
Plakhov brought attention to another problem for Russia's film industry: ''There is no clear government policy. Look at what France is doing, for example with the French Cinema Days in Paris. [Film promotion agency] Unifrance is working very efficiently from a commercial point of view. It does not restrict itself to promoting major movie stars, it also promotes the whole of the younger generation.'
''We need to create a fashion for Russian cinema, as the Koreans have done,'' Plakhov added. ''The last time Russian cinema was in fashion was in 1990 with Pavel Lungin's Taxi Blues.''
All rights reserved by Rossiyskaya Gazeta.