Russia to fight smoking with price increase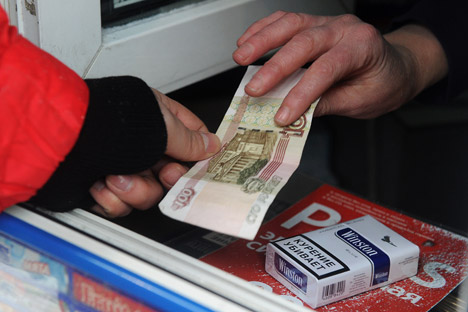 Cigarette prices might increase fivefold by 2018.
Smoking is about to become a very costly habit in Russia. By 2018, the average pack price is projected to rise to almost 150 rubles ($5) – five times as much as the current price – according to a recent report by the International Tax and Investment Center (ITIC). The report was issued after experts at the center analyzed a new Russian government tax plan. Specialists expect the cost of smoking in Russia to increase on average 150 percent by 2018.
If these estimates prove right, cigarettes will account for about 12 percent of the daily disposable income of a middle-income smoker, while the poorest population groups will be spending 28 percent. This is a substantial increase over the current 5 to 7 percent smokers currently spend.
ITIC President Daniel Witt warns that as a result of the increase in taxation, Russia's legal cigarette sales will likely be almost cut in half – from 369 billion cigarettes annually today to 186 billion starting in 2018. Illegal cigarette sales, however, will increase to 35 percent of total sales. Witt based his analysis on the experience of Bulgaria, Ireland, Poland and Romania.
Russia is currently the world's second-largest consumer of cigarettes, but it has a shadow market of under one percent. ITIC experts attribute this low level of illegal sales to the state's current tax policy. According to the Framework Convention Alliance, illegal trade currently accounts for 11 percent of the global cigarette market.
Cigarette makers do not rule out that some factors besides than the rise in excise taxes might drive prices up. For instance, the industry will have to spend an estimated $28 million on printing packs bearing mandatory warning images displaying the effects of smoking, said Eduard Vorontsov, executive director of the Council for the Tobacco Industry.
"It is impossible to calculate now how much it will cost them to place the images on the packs, because the Health and Social Development Ministry has not yet approved standards for those images. Also, the costs will depend on the number of brands in makers' portfolios," Vorontsov said. "Given the $28 million spent on warnings, they will spend at least the same money on the images." The Health and Social Development Ministry earlier instructed cigarette producers to place the deterrent images on packs within a year.
Furthermore, makers that sell cigarettes in the Customs Union states (Russia, Kazakhstan and Belarus) will have to place other pictures on packs starting from 2014, this time to comply with the general technical regulations applicable to tobacco products. This means cigarette-makers will have to revise their designs again. Naturally, these costs will be passed on to consumers, according to Vorontsov. However, Darya Khalturina, co-chair of the Russian Antismoking Coalition, is certain that the costs of changing the design of cigarette packs are minor compared with the profits gained by cigarette producers, and therefore the price will hardly be affected.
More substantial expenditures will be required to establish a monitoring system similar to the Unified State Automated Information System (USAIS) that has been introduced into Russia's alcohol market. The monitoring is part of the protocol for controlling the illegal trade in tobacco required of signatories to the Framework Convention on Tobacco Control. Dmitry Redko, a representative of a large cigarette corporation, believes that monitoring of cigarette traffic will not come soon, but it is inevitable. "So far, we have no solutions for this system to work, but they are being developed," Redko said. According to his estimates, a beacon installed in every cigarette pack to track its way from the plant to the retailer will boost cigarette prices about $0.2 per pack.
Over the past five years, the number of illegal cigarettes taken off shelves has fallen markedly from 7 million packs in 2007 to 172,000 packs in 2011, according to reports from the consumer rights watchdog group Rospotrebnadzor. More than 90 percent of them were withdrawn from the retail chains. In 2011, more than 5,000 fines were imposed, totaling 20.3 million rubles ($650,000).
All rights reserved by Rossiyskaya Gazeta.