Brad Garine, CEO and founder of the New York Bakery, gave Russia Beyond the Headline's Sofia Raevskaya his recipe for success
Russia Beyond the Headlines: What has been the secret of your success?
Brad Garine: The secret is that you've got to love what you do, and you've got to do it well. When it comes to baking, I know how real American desserts should taste, and I believe it pays off to create a top-quality product.
RBTH: What difficulties did you encounter when you were building your business?
B.G.: The most difficult thing in Russia is the bureaucracy. To run a business, you need all kinds of different permits and authorizations, and every day you need to sign and fill out a pile of documents, bills and invoices. It's too much! I can understand why the state wants to keep tabs on how businesses are run, but they it take to extremes. It's much easier to run a business in the U.S., although admittedly it's still not completely hassle-free.
Also, it can sometimes be quite difficult to get hold of ingredients; there's either none at all, or a very limited choice. The way deliveries are managed is relatively basic, and we are very picky about where we buy our ingredients. We want to minimize our reliance on imported products, and sometimes we have to make things ourselves if there is nothing available closer to home. Things like special varieties of chocolate or flour are especially hard to come by. In general, we buy 90 percent of what we need here in Russia. We order the rest from the United States, or make it ourselves. And we occasionally have problems with the staff. We have quite a high turnover, despite the fact that we have made a nice working environment here and created a good team atmosphere, and even though we pay well because we understand that our employees have mouths to feed.
RBTH: How many years has your business been in Russia?
B.G.: We have been properly established for two years. We spent six months testing the water, tailoring our products to the market. But officially we've been open two years. We focus on supplying and catering for hotels, cafes and restaurants. Our primary goal is to become the biggest supplier of American desserts in Moscow. We are also interested in working with big brands and private labels. When it comes to baking, we really know our stuff, and I am confident that this will help us to become a key player in this business. I spent a large portion of my life in the field of investments – around 20 years – and I can see that there is a lot of room for growth in this sector.
I think that the Russian market is big enough for us. Russia is a huge country. Over the next few years, we would like to expand into the regions. We already supply eateries in Surgut and Kazan. We would jump at the chance to do business in other cities.
RBTH: Do you get good feedback from your clients?
B.G.: Individual clients only form a small part of our business, and we don't do much marketing. Most clients find out about us through word of mouth. We've managed to form good, successful relationships with big chains and small restaurants alike. And for me, the best feedback is when a client places an order on a weekly basis. We would not have been able to keep the business afloat if the product wasn't so good and in-demand. We get regular orders from individual clients too, especially American expats. We make the things they know and love, products that were never available in Russia before we came along. We also make products with our Russian clients in mind. The feedback is very positive. The American approach to customer service certainly plays a role here. The client comes first. We offer a delivery service and if for some reason we are unable to make the delivery on time, we will be sure to warn them in advance.
RBTH: What principle do you work on when choosing your product range?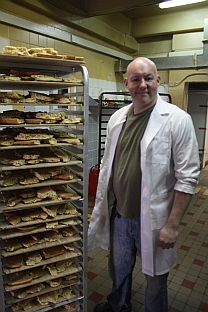 Brad Garine. Source: Press Photo
B.G.: Our foremost criteria are to make products that our clients will like and to offer a good selection. Alternatively, we make things to a client's specifications. First we experiment, ask people's opinion, test out the ingredients. Then we give it to the client to try. We are quite flexible in this respect. The most important thing is that the client likes it.
When we first started out, the menu was very simple: just the usual assortment of cakes, cheesecakes, different kinds of bread, and bagels (I'm a big fan of bagels). We also make bread rolls for burgers. Now we offer 15 different kinds of cheesecake – there's a huge demand for them. I don't think a massive selection is necessarily a guarantee of success. It's better to offer a few, really good products.
RBTH: I noticed that you also have Russian deserts on the menu (bird's milk, honey cake). What gave you the idea to do this?
B.G.: People started coming to us from small cafes and hotels specializing in cakes, and they asked us to add classic Russian desserts to our menu. There was a trend for this a while back. We decided to make a top-quality product. There's a lot of competition in this particular area, but our main strength lies in the fact that we bake without chemicals or preservatives. We make everything from natural ingredients. Our cheesecakes are flash frozen as soon as they come out of the oven, and last up to three months in the freezer, which is a comparatively short time. I see Russian cakes being sold everywhere, but they're full of chemicals! They are very sweet and have a shelf life of six to 12 months. If you want cheap products for a couple of kopecks, you've come to the wrong place. We use all natural products. In the U.S. there is a whole movement afoot for organic produce. I think this trend will soon catch on in Russia. As far as I'm concerned, something that sits on the shelf for a year can hardly be called food!
People love a good taste and smell. They'll come back for it again and again. When we were making Russian desserts, we spent a long time planning and choosing the ingredients. With an approach as thorough as ours, you can't really go wrong. But at the same time, I understand that you can't please all of the people all of the time. We aim to find a happy medium.
I've noticed that in Russia people still don't know what a real cheesecake tastes like. Many if not most have tried a "kind of cheesecake" – a traditional Russian cake made from curd. And now they can find out what a real cheesecake tastes like. And once they do, they'll never want anything else.
---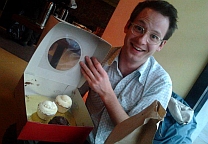 Odin Biron. Source: Sofya Raevskaya
Odin Byron, an American actor living and working in Russia is a big fan of Garine's cakes.
Really, really tasty! In America there's a massive choice of different cakes. And these desserts could definitely pass as one of them. They are made in the American style; it's a familiar taste. I think they deserve to be called a genuine American bakery. I'm going to order a cheesecake here for my birthday.
All rights reserved by Rossiyskaya Gazeta.