Winning hearts and minds, one cake at a time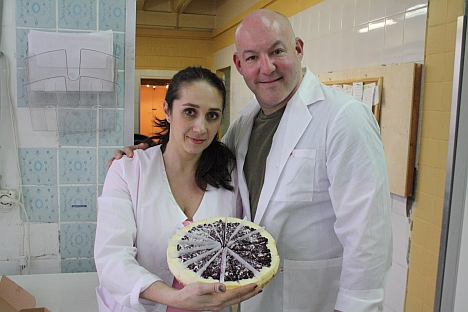 Yulia and Brad Garine show off one of their popular cheesecakes. Source: Press Photo
New York Bakery keeps Moscow eateries — and homesick expats — supplied with American treats ranging from creamy cheesecake to chewy bagels.
Baked goods such as thick slices of cheesecake with gooey pecan topping, salt bagels smeared with cream cheese and yellow cupcakes crowned with rainbow sprinkles used to be found strictly across the Atlantic — and in the memories of Moscow's homesick expatriates. But thanks to New York Bakery, they're now just a phone call and a delivery truck away.


"People are looking for comfort food," said bakery owner Brad Garine. "What's better than waking up on a Saturday morning and having a nice toasted bagel with a good cup of coffee?"


New York Bakery began in 2009, when Garine and his wife Yulia began making cookies in their apartment. Today, it has 14 employees, a nearly 4,000-square-foot kitchen and major clients such as Wendy's. Hit products include bagels, cupcakes, brownies and perhaps the most popular item, cheesecake, which comes in 13 flavors, including blueberry and brownie.


Garine, a Long Island native, first visited Russia during the Brezhnev era, when his father was doing business in Moscow. He returned in the 1990s to work in real estate and met Yulia at the American-owned Starlite Diner, where she was a waitress. After the Russian economic crisis hit in 1998, they moved to the U.S. and ran a laundry and other businesses in Miami and Los Angeles. In 2008, when the American economy began to falter, they went back to Moscow. Inspiration for a new business came during a trip to the grocery store.


New York Bakery treats tempt Muscovites and expats alike. Source: Press Photo
"It was mind-boggling to think that when you went down the aisles, it was all imported, imported, imported," Garine said. "I got home and I said, 'We've got to start making cakes!'" Yulia liked baking, but neither she nor Brad had professional cooking experience — not to mention equipment. "We didn't have cutters," he said. "We didn't have food coloring. We had nothing."


At a local market, Garine located copper ribbon, which he fashioned into cookie cutters. Soon they were baking holiday cookies in their kitchen and selling them by word of mouth.


The first breakthrough came with a request to supply bagels to the U.S. Embassy. Then the bakery signed a deal to create a new hamburger bun for expat-friendly eatery Beverly Hills Diner. "We got some complaints from people, from foreigners, that the buns we were using were falling apart," said Beverly Hills Diner brand chef Richard Punzalan. The bakery developed a new version that would stand up to a juicy patty.


Soon, other customers came calling. Current clients include Starlite Diner, T.G.I. Friday's and Wendy's. The bakery recently closed a deal with popular Russian café Shokoladnitsa to provide 45,000 bagels a month.


These days, most of the bakery's desserts are developed for specific restaurants. A current project is focused on creating a crumb cake for a New York–style deli. "If they love it, we roll," Garine said. "If they don't love it, we change it again until they're happy."


In a city that has yet to banish the ghost of Soviet customer service, this focus on pleasing the client has proved good at keeping buyers. "Whenever you need them, they're in front of the door," Punzalan said.


Although its main income is now from restaurants, the bakery still sells to individuals. Customers place their order over the phone for next-day delivery. One oil company has a regular order for Friday morning bagels.


Making American baked goods in Russia has required some adaptations, like finding substitutes for brown sugar. The bakery has to import certain key items, like chocolate chips and cream cheese, from France or Germany.


Some products catch on more quickly than others. "Russians don't really understand bagels yet," Garine said. Snickers cheesecake, on the other hand, flies out of the dessert case at Beverly Hills Diner. Said Punzalan ,"It's one of the hits. Russians love Snickers." For those who want a more traditional Russian dessert, the bakery also offers honey-layered medovik and "bird's milk" cake, a marshmallow-like soufflé with a chocolate shell.


Prices are fairly high; a carrot cake runs 1,600 rubles, or around $50 dollars. "It's not cheap, but there's a reason for that," Bogdanov said. "It's definitely worth the price."
All rights reserved by Rossiyskaya Gazeta.