Attending a Dmitri Krymov performance can only be described as a total art experience. It brings to mind the German word, "Gesamtkuntswerk," a word that has no English equivalent, but describes a fusion of all art forms into one. The Russian director experiments with painting, music, poetry, song, dance and mime, and all are brought together in a theatrical spectacle.
Krymov's new show entitled "In Paris" is currently on a U.S. tour with Russian-American dancer Mikhail Baryshnikov. Misha, as Baryshnikov is known to friends and fans alike, has gracefully transitioned from a virtuosic wonder of the ballet world to a powerful physical actor.
"It's the first time Baryshnikov will be acting in Russian," said Krymov, as he welcomed a reporter into the huge studio he occupies at the prestigious School of Dramatic Art, his Moscow theater base. (The former dancer will act in Russian and French with English supertitles.)
He recalled his first meeting with Baryshnikov in New York. "It was a fabulous day. Mutual friends from St. Petersburg introduced us to each other. The idea of the show was born out of this meeting. I really liked him and I think the feeling was mutual. That is how the adventure began." And while Baryshnikov is a star, in every sense of the word, Krymov is just beginning to garner an international reputation in rather elite circles. Baryshnikov has developed over the years a keen sensibility for supporting talented directors and choreographers, starting with his cutting-edge collaboration with the then-unknown Mark Morris and the White Oak project they established in 1990.
"In Paris" is based on the 1940 novella of the same name by Ivan Bunin. The main character, played by Baryshnikov, is a Russian emigré in Paris in the 1930s who first has to deal with loneliness, then with love. Russian actress Anna Sinyakina plays the young love he meets by chance. The show delighted the European and West coast audiences; it will come to New York in August for the Lincoln Center Summer Festival. The five performances are already sold out, though there is hope that more performances may be added.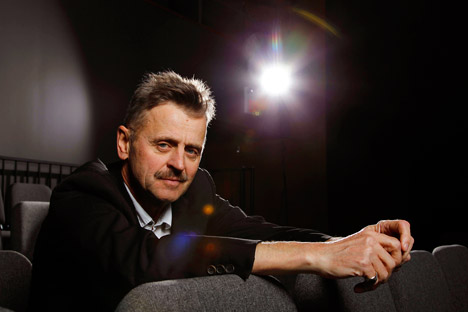 Russian-American dancer Mikhail Baryshnikov. Source: AP
But it won't be playing in Russia anytime soon. "Mikhail doesn't want go back here," Krymov said. "He is more keyed up than I am about what is happening in Russia, but that's the way it is, it's his decision, it's not up to me to judge."
Unlike some of his colleagues, Krymov said he has never been tempted by the idea of emigration. As annoyed as he gets with his country, he quickly feels homesick when he leaves it, he said. On the eve of his American tour, Krymov was impatient to see the effect his show would have on the public across the Atlantic.
Does he fear being misunderstood? Not really. "Theater is an international language, even if you do not understand everything to the third and fourth degree, theater is interesting in itself. It's a little like poetry."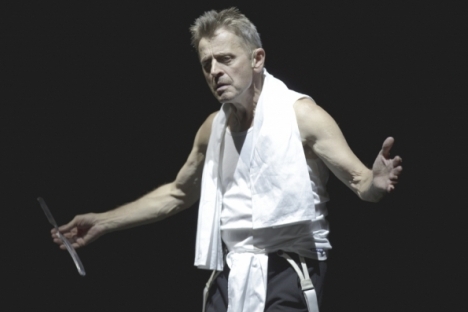 Russian-American dancer Mikhail Baryshnikov starring in Dmitry Krymov's show "In Paris". Source: Maria Baranova / Press Photo
The piece has already been performed in Berkeley, where critics were appreciative—the San Francisco Chronicle praised Baryshnikov's performance. But a few also appeared baffled by the lack of turbo-charged fireworks. For Americans, "In Paris" may seem rather subtle. "Those who approach the work with modest expectations will be better able to appreciate its dreamlike pathos," Charles McNulty wrote in The Los Angeles Times. However he also wrote that the "wispy" play "continued to resonate inside me, not unlike the memory of past loves, long extinguished though never completely forgotten."
Krymov's aesthetics cross the language barrier better than most dramatic works for sure. That is for one simple reason –words are not at the center of his shows. Words and scenery even seem to swap roles. The visual experience moves to the foreground, whereas words, when they are used, and they are used sparingly, are liberated from creating the narrative thread.
In his most recent productions, Opus 7, Tararaboumba and Gorki 10, the audience experiences this kind of total theater. "I appeal to the heart rather than the head." Krymov said. He seeks to bring out strong emotions; he said he feels he succeeded when he sees audience members laughing or crying. In Moscow, Krymov attends every performance.
Krymov's total immersion in the theater is not surprising; he has been part of this world since his birth in 1954. His father, Anatoly Efros, was a Soviet theater director famous for his innovative interpretations of Chekhov, and his mother was a theater critic.
Instead of following in his father's footsteps and becoming an actor, Krymov opted for stage sets and design, until 1990, when he left the theater to become a painter. He had a magnificent career, working in a style that has been described as neo-impressionist. His paintings have been selected and collected by the most prestigious museums. It was not until 2002 that he returned to the stage, when he was invited to train young artists in theater design. At the same time, he began directing and was noticed by Anatoly Vassiliev, one of the most internationally acclaimed directors of the past quarter century, who invited him to work at his "School of Dramatic Art" theater.
Krymov is currently one of the main attractions in a lively Russian theater scene. His last show, Gorki 10 (the last address at which Vladimir Lenin lived) was an indescribable performance in which characters developed around the figure of Lenin.
Yet he feels that he is somehow set apart. "I get the impression that all the playwrights have told each other to write in the same way. In fact, I am not looking for plays. If I need a subject, I can find it in myself. If I need a particular author, I will go and look for him in my library… either I'll write it myself or my actors and I can create it together."
All rights reserved by Rossiyskaya Gazeta.