Investors pin hopes on Putin's reform agenda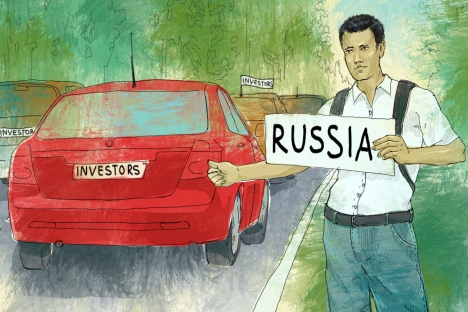 Drawing by Natalia Mikhailenko
As Vladimir Putin settles in as president of Russia, foreign investors will wonder what the future holds for them.
The high levels of capital flight suggest local investors are unconvinced about the prospects for serious structural and economic reform under President Putin, which is widely viewed as essential if Russia is to maintain its current rate of economic growth. And their scepticism is not without foundation. The Russian authorities' track record of reform has been chequered, with periods of very positive movement (notably 1992 to 1995 and 2000 to 2003) being the exception rather than the norm.
This time things are different. A new range of external factors have cropped up over the past few years that will galvanise the Kremlin into real and transformative action. Not least of these is that it is unlikely that Russia will be able to rely forever on high oil and gas prices, which to some extent have underpinned its economic performance in the past decade.

Already, there is a great deal of evidence that Putin is this time taking personal responsibility for the reform agenda, which may indicate that things are going to change for the better. Putin signed a decree "on the long-term economic policy" on the day of his inauguration. This decree contains around 30 major reform measures, including improving and simplifying business regulation and tax-reporting requirements, selling all state stakes in non-resource companies by 2016, allowing foreign companies to participate in bids for road infrastructure projects and removing the threat of criminal sanction from economic legal disputes.

By strengthening the rule of law and reducing the costs and risks of doing business, these reforms will go a long way to making Russia more attractive to investors.

These measures follow other recent developments that suggest Mr Putin is taking the reform agenda very seriously. Recent big deals between the Russian oil company Rosneft and its US rival Chevron and the Norwegian Statoil were personally presided over by Putin, which shows he is committed to working with foreign partners. This is a symbolic development for Russia, given how central its energy-exporting sector is to its overall economy.

Furthermore, recent announcements of investment in Russia by foreign companies including the car manufacturers Renault-Nissan, also demonstrate that the 
government's attempts to diversify away from natural resources might finally be starting to pay off.

On foreign policy, the government has recently announced a new focus on facilitating visa-free travel between Russia and Europe, which would help reduce the costs and bureaucracy of doing business in Russia.

Investors cannot be certain that all of these initiatives will be implemented and, given the government's track record, there are reasons to be cautious. But this time, Mr Putin is under real external and internal pressure to secure his legacy as the president who finally delivered a modern economy for Russia. The stakes are high, not just for the president but for the millions of Russians who are looking for a secure economic future.

Alexey Moiseev is head of macroeconomic analysis at VTB Capital, London.
All rights reserved by Rossiyskaya Gazeta.