Doing one thing very well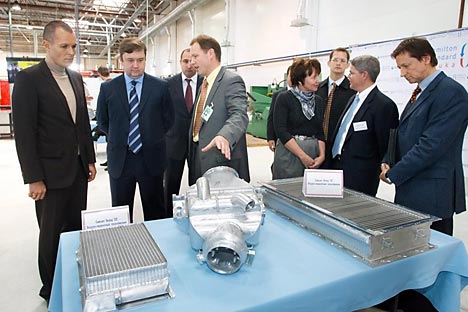 The joint venture of the American company Hamilton Sundstrand and Russia's scientific production association, Nauka, began operations in Moscow in 1995. it secured contracts for the design and manufacture of heat exchangers for the Boeing 787 Dreamli
A Russian-American joint venture finds success in focusing on details and hiring the right people.
"In contrast to many Russian aerospace companies, we specialize in manufacturing one hi-tech product – heat exchangers for airliners' air conditioning systems," said Roman Chichelov, general manager of Hamilton Standard-Nauka (HS-Nauka), explaining why the labor productivity in his company is 10 times higher than the industry average. "In this business line, we are on the way to becoming a world leader in design, development and manufacture."
The joint venture of the American company Hamilton Sundstrand and Russia's scientific production association, Nauka, began operations in Moscow in 1995. Since then, the company has earned its enviable standing in the global marketplace through technological innovation, state-of-the-art equipment and painstaking introduction of the most up-to-date organizational and management strategies. During the past 17 years, products manufactured by the joint venture have found their way to leading international and Russian aircraft companies. Its list of customers includes such names as the Boeing (U.S.), Tupolev and Ilyushin (Russia), Bombardier (Canada), Embraer (Brazil) and Saab (Sweden).
HS-Nauka's business development entered a new stage in the 21st century when it secured contracts for the design and manufacture of heat exchangers for the Boeing 787 Dreamliner and the Airbus 380. "The volume of the contracts – 13 HS-Nauka items per ship-sets per Boeing 787 airliner and 6 items per ship-set per Airbus 380, along with a rising demand from the Russian aviation industry actually meant that we needed to double our production capacity," said Chichelov. "So we had to create a design group that started blueprinting new models of heat exchangers. And for their manufacture we could not help expanding outside Moscow."
After considering various places for a greenfield production site, HS-Nauka chose the town of Kimry in the Tver Region, some 70 miles from the capital. The new production facility contributed to timely delivery of heat exchanges for both airliners, improving the company's overall efficiency despite the fact that it had to hire new engineers and workers. "There are no expatriate employees in our company," said Leonid Mazin, HS-Nauka's director of operations strategy and business development. "When required, our American partners in Connecticut send over teams of engineers and technicians to install or tune up U.S.-made equipment and coordinate technological approaches to new production processes. Otherwise, we are on our own and are fully responsible for running the joint venture. But, of course, we strictly follow the corporate policies, especially as regards work safety, professional attitudes, business ethics and rules, personal behavior standards and job satisfaction."
HS-Nauka's expansion into Kimry was a boon for skilled local engineers like Igor Sotsky, the manager of the Kimry site. After graduating from the Moscow Academy of Precision Instruments and Automation, he worked for several years worked as production manger at a manufacturing plant in the nearby town of Dubna before coming to the HS-Nauka Kimry facility. Sotsky's education, experience and knowledge of the local market made him an attractive candidate for HS-Nauka, and Sotsky himself is proud of the facility's use of Western-standard practices. "Though we manufacture only details for heat exchangers and each operation is usually well understood," Sotsky said, "I introduced visualization of technological processes for all workers, the method of on-job training used by Hamilton Sundstrand. We also follow its other corporate principles and rules. Thanks to that, the Kimry facility has already achieved the corporate silver level for work quality. I am convinced that soon we shall get the gold one."
The company invests in its workforce as part of its broader strategy to keep production costs low. Of the 60 employees currently working in the Kimry site, 44 are production workers. This follows the organizational pattern of the company's Moscow headquarters, where support staff is in the minority. Another important factor is the division of labor. While designers, engineers and technicians are concentrated in Moscow for assembling and tuning of the end products, the company's facility in Kimry specializes in manufacturing details.
Purchasing policies are another vital component to maintaining the company's competitive edge. "Unfortunately, major Russian aluminum conglomerates don't produce high-quality metals required for making our high precision details. So we have to import aluminum band as well as most of our technological equipment," said Mazin. "It so happened that our joint venture became a single Russian buyer of certain aluminum alloys, fin-forming, welding and de-greasing equipment made not only in the U.S., but in other industrial countries." Purchases of expensive up-to-date equipment are a substantial addition to overall production costs, but having doubled its annual sales in the last five years, HS-Nauka can afford to amortize the investment in up-to-date equipment.
The quality of work is also insured by introduction of American manufacturing know-how and operating procedures. Said Mazin: "We use product documentation and certification of all technological processes, so that one can find who, when and how processed a detail years back from the date of its failure, if it happens. So far, we have not received any complaints."
All rights reserved by Rossiyskaya Gazeta.