Authorities set up IT directorate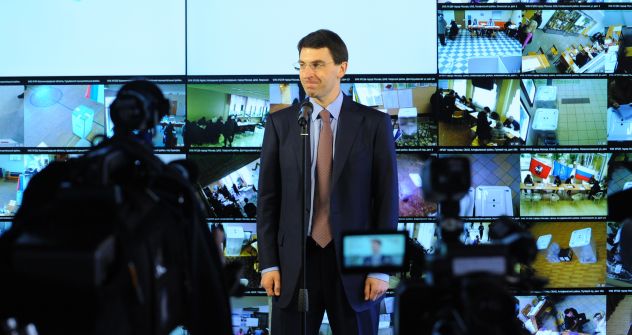 Presidential aide and former communications minister Igor Shchegolev will head a new, fourth, presidential directorate, which will supervise the use of information technologies and development of electronic democracy. Source: RIA Novosti
Russian President Vladimir Putin has set up a new directorate for use of information technologies and development of electronic democracy.
On June 30, Vladimir Putin created a new, fourth, presidential directorate, which will supervise the use of information technologies and development of electronic democracy; on July 1, presidential spokesman Dmitry Peskov confirmed that the new directorate will be headed by presidential aide and former communications minister Igor Shchegolev.
The directorate is part of Putin's promise "to improve the mechanisms of our democracy, including through use of modern crowd-sourcing technologies," which the president made at the St. Petersburg International Economic Forum.
The new directorate will interact with the Open Government system, a panel of experts under the prime minister and a government commission, which is currently being put together. In one of Putin's first decrees, issued on May 7 and entitled "On the Guidelines for the Improvement of the State Administration System," the president ordered the government to put electronic democracy mechanisms in place.
That decree consists of about 30 instructions on how to build an electronic democracy system. The government has been given until Sept. 1 to create an Internet resource on which federal executive bodies will be obliged to hold public consultations with the populace on proposed legislation and decisions and post the results of these consultations. Within the same period, the government will have to approve the concept of a public initiative that will enable Russian citizens to propose amendments to legislation. Such proposals will need to be supported by at least 100,000 people before they are eligible for consideration.
The same decree states that, before July 15, 2013, Russian citizens will have online access to government information resources. By January of next year, the government is supposed to draw up a bill on the criteria and procedure for public assessment of the performance of heads of executive authorities at all levels.
On June 29, Mikhail Abyzov, minister for liaisons with the Open Government, personally tested the readiness of Russian citizens for Internet democracy and participation in the Open Government system. An opinion poll on attitudes to Internet democracy was conducted during a meeting with 500 regional managers of Sberbank, Russia's retail banking giant. During the meeting, Abyzov explained how ordinary people can use the Open Government system to improve the quality of state administration. The poll revealed that 65 percent of Sberbank managerial staff approve of the Open Government idea, although 53 percent of respondents did not quite understand what it was all about. After the meeting, 83 percent of the Sberbank managers said they would like to take part in the electronic democracy system.
This is an abridged version of the text, which appeared in Russian on the website of Russian daily Kommersant.
All rights reserved by Rossiyskaya Gazeta.