Territorial dispute hinders Russian-Japanese rapprochement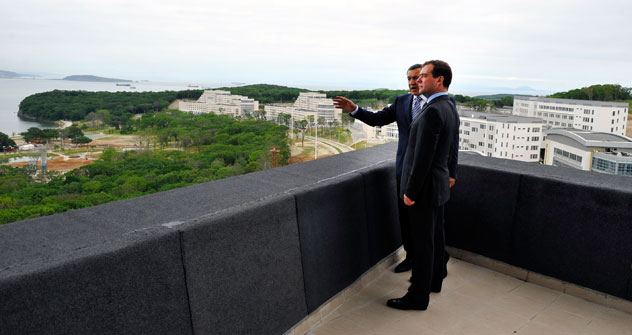 Moscow and Tokyo remain at an impasse over the disputed South Kuril Islands after a visit by Prime Minister Dmitry Medvedev sparks a new war of words.
On the eve of the Russian presidential election in March, Vladimir Putin, talking to foreign journalists, including a representative of the Japanese newspaper Asahi, made it clear that he was ready to resume talks with Japan on the territorial dispute over the South Kuril Islands. "Let us do it this way: when I become president, we will have our foreign ministry sit down on one side and the Japanese ministry on the other side and give them the command 'hazime' ['begin']," Putin said.
This comment did not go unnoticed in Tokyo. Seiji Maehara, a leader of the ruling Democratic Party of Japan, came to Moscow on an unofficial visit in late April, then in May, Russian State Duma speaker Sergei Naryshkin met with the Japanese prime minister and foreign minister in Tokyo. Contacts at the working level picked up dramatically. These preliminary exchanges were crowned by a meeting between Russian and Japanese leaders at Los Cabos, Mexico on the sidelines of the G20 summit. Russian President Vladimir Putin and Japanese Prime Minister Yoshihiko Noda agreed to remain in close contact and to have another meeting as part of the APEC summit, to be held in Vladivostok in September.
Commenting on the results, Russian presidential aide Yuri Ushakov told journalists that there was an understanding that further dialogue should proceed "in a calm, constructive atmosphere in an endeavor to avoid attempts to influence the course of discussions by public and frequently impulsive statements."
The issue is obviously extremely sensitive. Public statements can easily win political kudos at home, but they can even more easily disrupt the dialogue, as has happened more than once before. Both Moscow and Tokyo are well aware of this. Yet the agreement to show restraint lasted only a week.
On June 24, Secretary General of the Japanese Government Osamu Fujimura told journalists that a possible visit to the disputed islands by Russian Prime Minister Dmitry Medvedev "would contradict the Japanese position."
Moscow's reaction was swift. "The South Kuril Islands are an inalienable part of the Russian Federation. Comments abroad on the travel plans of Russian leaders within the territory of their own country are inappropriate to say the least," read a statement by the Russian Foreign Ministry.
Meanwhile, Medvedev arrived in the South Kurils on July 3 as part of a trip to Russia's Far Eastern Federal Area. "This is a very important part of Sakhalin and the whole of Russia. We have been doing this [development of the territory] before and the new Government will naturally continue to do so," Medvedev said, speaking about his visit.
Tokyo responded promptly: "Medvedev's visit to Kunashir is like throwing a bucket of cold water on our relations", said Japanese Foreign Minister Koichiro Gemba. The Japanese Foreign Ministry lodged a formal protest.
Despite the rhetoric, objectively, both Russia and Japan are interested in closer relations. This applies to energy cooperation and ensuring security in North Eastern Asia, including the North Korean nuclear bomb problem.
Of course, these are topics that Putin and Noda can discuss during the APEC summit. According to Russian Foreign Minister Sergei Lavrov, Moscow does not intend to turn the verbal sparring over the territorial problem into a permanent process. "We must move towards a peace treaty not through periodically recurring protests, with or without a pretext, but through the implementation of agreements reached at summit level on unfolding in-depth collaboration in all spheres of bilateral cooperation without exception and in international affairs," Lavrov said in a press conference on July 3.
All rights reserved by Rossiyskaya Gazeta.