18 tons of humanitarian aid destined for Krasnodar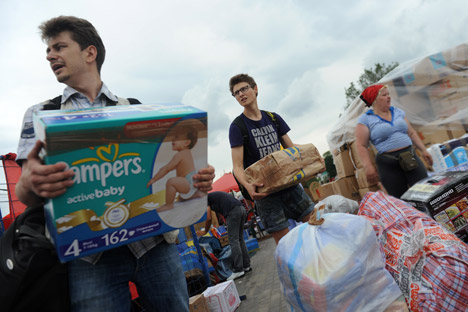 About 18 tons of humanitarian aid has been collected in Moscow for the victims of the flood in the Krasnodar Region by July 10. Source: ITAR-TASS
After the disastrous floods in southern Russia, volunteers and government officials began coordinating relief efforts.
After a flood on the night of July 7 left more than 30,000 people homeless, both government organizations and ordinary citizens began coordinating relief efforts.
About 18 tons of humanitarian aid has been collected in Moscow for the victims of the flood in the Krasnodar Region, Valdimir Petrosyan, head of the Moscow Social Security Department, announced on July 10. Volunteers have collected basic necessities, such as clothes, footwear, food, detergents, medicines, baby food and towels. Volunteers counted 500 toothbrushes.
Emergencies Minister Vladimir Puchkov said that what the victims needed most was bottled water, packed foodstuffs and children's toys; he added that there was no longer any need for clothes.
"We have bought a lot of sweets, mostly lollipops because chocolates would melt, marmalade and dried fruit," said a volunteer at one reception point. "We want people to get some goodies along with canned food."
In Moscow, collection of humanitarian aid for the victims of the raging elements in the Kuban Region began on Sunday, July 8 and collections continued on Monday, organized by the Moscow Social Security Department. Additionally, all of the city's 122 social service centers opened collection points for the convenience of those who wanted to donate.
Humanitarian aid for flood victims in the Kuban area is also being collected in several other Russian regions, including Adygeya, Kalmykia, Ingushetia and Astrakhan. About 400 tons of humanitarian freight have been delivered to the site of the tragedy.
"We are open from 9 a.m., evening is still a long way off, but we have already had more than 30 people," said Dmitry Vershinin, chairman of the Red Cross in Sverdlovsk. "I think there will be a spike after 6 p.m., when people are back from work. People are generous; everyone gives what he can. One deputy brought 10 boxes of soap. An old woman rode in a hot tram for an hour to donate a parcel with children's clothes. People are bringing things and do not even bother to give their names; they simply want to help."

This story was based on reporting from RIA Novosti, Komsomolskaya Pravda and ITAR-TASS.
All rights reserved by Rossiyskaya Gazeta.