Russia to inject $3 billion into Cuban projects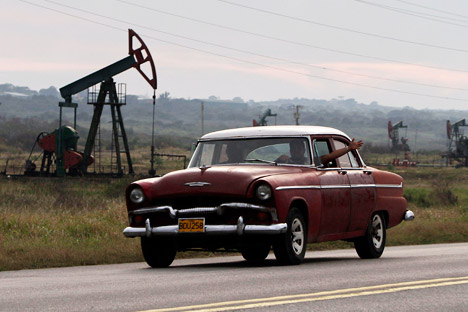 Russia will invest in a number of Cuban energy projects. Pictured: A man waving from his classic car as he drives by oscillating oil pumps operated by the state oil company Cuba Petroleos, Cupet, in Santa Cruz del Norte, Cuba. Source: AP
Russian firms believe that potential profits in the Cuban oil and gas sector are worth the risk of possible nationalization.
Russian state-run oil company Zarubezhneft is poised to invest about $3 billion in Cuban projects over the next 13 years, according to presidential aide Yury Ushakov, who made the announcement last week. Ushakov commented on Russian-Cuban engagement in the energy sector at a briefing covering upcoming talks between President Vladimir Putin and Cuban leader Raúl Castro.
Most of the current oil deposits in Cuba were explored by Soviet specialists, Ushakov said, adding that Zarubezhneft and Gazpromneft are already implementing large oil projects in the country.
"Zarubezhneft alone has invested $40 million in Cuba since 2009, whereas by 2025, the company plans to invest a total of $2.9 billion," Interfax quoted Ushakov as saying.
According to RIA Novosti, Zarubezhneft will start drilling an exploratory well at Cuba's Block L this November. The Russian company has leased a Songa Mercur drilling rig from Songa Offshore.
Last year, Zarubezhneft and Cuban Cubaрetroleo signed four contracts for geological exploration and production of hydrocarbons. The contracts were the first of this kind between Russia and Cuba in the last 20 years. Specifically, they explain the involvement of Russian companies in exploring and producing hydrocarbons on four blocks – two onshore and two offshore.
Block L is located to the north of Sancti Spíritus and Ciego de Ávila provinces, in the central part of the country. Previously, Zarubezhneft said it would give up one of the blocks, citing its poor prospects, and would focus on the other three instead.
Commenting on other Russian energy companies actively involved in Cuban projects, Ushakov mentioned electric company Inter RAO UES. Over the past three years, the company has fulfilled 10 contracts for deliveries of electrical power equipment worth a total of $11.6 million. Inter RAO UES and Cuban Unión Eléctrica have plans to set up a joint venture to upgrade a combined heat power plant in the city of Mariel, where a large seaport is currently under construction.
Industry analysts believe that the potential benefits for Russian companies from projects in Cuba exceed the potential risks.
"Apparently, outside observers will associate the risks of investing in Cuba with the recent expropriation of 51 percent in Yacimientos Petroliferos Fiscales (YPF) from Spanish Repsol," said Grigory Birg, co-director of the Investcafe research department. But the analyst believes that Cuba, which needs investment in its oil and gas sector, will not do it the hard way and needs support from partners it can trust.
"So far, Russian investments in exploring Cuban shelf reserves have not been significant but Cuba may have up to 20 billion barrels of oil in shelf deposits. Access to these potentially vast reserves is worth the risk of modest investments," Birg said.
First published in Vzglyad, Russia's internet newspaper.
All rights reserved by Rossiyskaya Gazeta.