Horse owners place their bets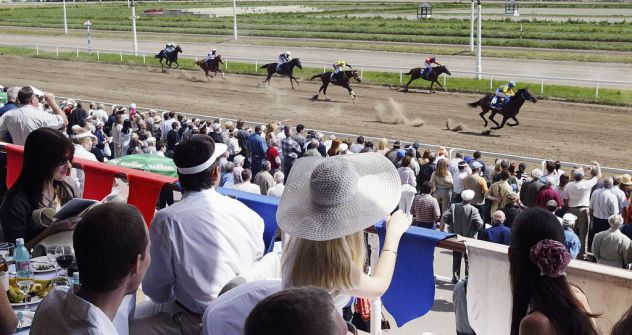 Russian racetrack companies are going to benefit from Russian equestrian sport and horse breeding. Source: Getty Images / Fotobank
The Russian Racetrack Company is re-establishing sweepstakes racing. The idea is to make Russian equestrian sport and horse breeding profitable, and integrate racetracks into the world system of betting, although experts are skeptical of the plan's success.
After a three-year hiatus, the Central Moscow Hippodrome has resumed sweepstakes races. Soon, betting on horses will be available at other racetracks as well. In a landmark move for the Russian racing industry, these racetracks will join a single betting system in an attempt to bring in money that can be used develop horse breeding and racetrack facilities.
Sweepstakes are not new in the Russian horse market. Betting on horses in Russia began at the Moscow racetrack in 1876, but a 2008 law restricting gambling to special gambling zones placed betting on horse in the category of restricted behavior. After the law was passed, the horse racing industry almost went bankrupt. In 2011, Russian President Dmitry Medvedev signed a decree reestablishing sweepstakes racing – but only at private racetracks. Because there are few private tracks in Russia, the racing industry continued to struggle until the state created a government agency, Russian Racetracks. The agency combines 27 state-owned stud farms and 21 racetracks and has the right to develop horse racing in Russia. In June, Russian Racetracks signed a contract with Sportbet, the world's largest bookmaking company.
Vladimir Zhukovsky, First Deputy CEO of Russian Racetracks, has proposed that the betting system in Russia should be integrated into the international betting system. "We have a lot to do. When I visit racetracks in Hong Kong or Dubai I think to myself: gosh, I wish I could be a horse here, because these racecourses are a specially designed area for entertainment and recreation, a nice place to be for people and horses," Zhukovsky said.
At Russian racetracks, top bets are not limited, but the minimum bet is 100 rubles ($3). Some gamblers have complained that this is too high and there are proposals to reduce the minimum bet to 50 rubles. "You know, this is a very special kind of audience. Sweepstakes were prohibited, but many continued to bet illegally (a kind of street betting when a group of enthusiasts pool up and then distribute the gains among themselves). Therefore, some of today's racecourse visitors are 70-80 years of age. You can see them on the stand," said Konstantin Gusakov, Russian Racetracks CEO.
A typical racetrack visitor is a man over 45; there are almost no women.
Zhukovsky describes the tote betting system in use at the Moscow Hippodrome: "Ten horses are in the race. Suppose, everyone knows this horse is a favorite, so 2,000 people make a bet on this horse. But yesterday the favorite was in a bad mood, or the horse slept poorly, and eventually the winner is a horse on which only two people made a bet. So, the money collected from the 2,000 people is redistributed in favor of these two winners."
Considerable investments are needed to maintain this system. "I'm trying to figure out what percentage of bets is paid to winners, and what percentage remains to develop the racecourse. "There are no secrets," Zhukovsky said. "On average, a casino takes four percent. In the Soviet times, a racetrack used to take 25 to 38 percent. Now we will do as other world betting systems do: the organizers take 15 percent [this includes the cost of the racetrack maintenance), the rest is to be paid to winners."
"I enjoy the process," said Zhukovsky. "I am a horse owner, my jockey wins prizes, but the proceeds of this are not significant. Perhaps, the system will make his proceeds a little larger. Basically, the more a horse betting system is developed, the more people will be willing to buy our horses. Sweepstakes help determine the price of a horse. You see, we have a horse that has won 11 races in a row. Its price is 4-5 million euros. In fact, that's a mare. If it had been a stallion the price would have been much higher. Thanks to the bets, we will breed more Russian horse breeds, which lost their ranks in the world, but still can regain them. These are the famous Orlov trotters, the Russian trotters as well as thoroughbred and Arabian horses that were born and reared in Russian stud farms."
Other experts in the field are skeptical that increasing bets can help rejuvenate the breeding system. "The key problem of the Russian equestrian market is the lack of information about the breeders, about the quality of horses at different stud farms, about the difference between a jockey and a rider, about horse betting," said a writer for a specialized equestrian magazine who preferred to remain anonymous. "Today, there are people who invest in stud farms and livestock. But I do not understand why on earth they believe people will rush to buy their horses – these breeders do not invest in promotion. We have to invest in the market, develop it. Sweepstakes also require a systematic approach: you can't really entice people into sweepstakes by saying they can win a million. They can come here once or twice to realize it's not easy money. So, they will never come back."
The writer suggested several ideas to increase the popularity of horse racing: "First, we need to make racetrack tickets cheaper. For many people, 300 rubles for the entrance is a too high price. We should organize Racetrack Days, arrange corporate events. I've seen these in other countries. People come to racecourses with friends, they have fun and they can make more bets."
This article is abridged from the original version, which can be read in Russian in Expert magazine.

All rights reserved by Rossiyskaya Gazeta.