"Petersburg: Urban Classic" exhibition opened in the Lumiere Brothers Center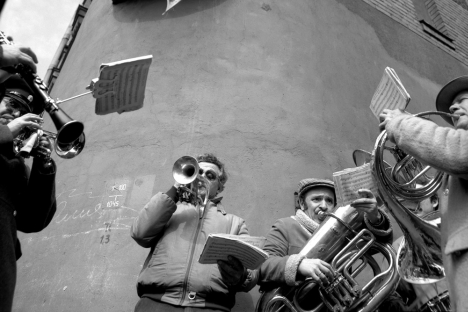 A photo presented at the "Petersburg: Urban Classic" exhibition. Source: Vladimir Antoschenkov
A local photographer and professor of architecture allows viewers to see St Petersburg through his point of view.
The protagonist in Vladimir Antoschenkov's exhibition is his hometown of St. Petersburg. The photographer has become known for putting an intimate face, and a warm glow, on chunks of concrete and asphalt streets.
His show, "Petersburg: Urban Classic" recently opened in the Lumiere Brothers Center for Photography, presenting his works from 1974 to 2004.
Antoschenkov has been the head of the Urban Studies and City Environment Design Department at St. Petersburg State University of Architecture and Civil Engineering for many years. "In the 1980s, I used to take the map and scour the streets block by block, entering yards and then crossing out those places that I had already visited. This is a very laborious process but it offered great results," he said.
In Antoschenkov's photographs, viewers do not see the pomp and circumstance of St. Petersburg, but an intimate, everyday city with many faces. He also showcases the ordinary in extraordinary ways--from yards, trees and drainpipes to cars, cranes, bridges, power lines and vent pipes. People attract his attention only as a part of the urban environment, and he eschews posed portraits.
In the residential and industrial districts, and in the factories (both working and abandoned) he examines machines, tools and devices that, in his view, could be on exhibit as well.
The architect's vision is visible in all his works, which emphasize rhythm and geometry. He likes finding the contrast of the old and new as well as the beautiful and the ugly; he pays attention to the building's facade and the antenna with wires rising above the classical moldings.
Many photos are taken with a sense of humor. This is often achieved by means of a fanciful title or unexpected combinations of objects from different eras. In the photograph titled "Field-Marshal the Foreman," a monument to a commander stands next to a building crane in such a way that the commander appears to be the foreman at the construction site.
The photographer has more than a dozen projects that are devoted to his home city, from architecture and sculpture to the vegetation of the city.
The exhibition in Moscow closes September 16.
All rights reserved by Rossiyskaya Gazeta.