Economic fears drive housing market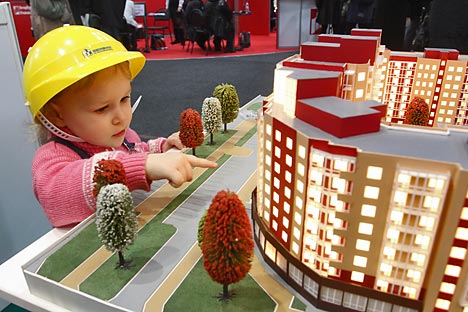 The spike in activity on the secondary housing market in the Moscow Region has been spurred by the economic fears among some Russians. Source: ITAR-TASS
As Russians become more skeptical of the country's economy, they are investing in real estate.
More and more people in Russia are convinced that the coming year will bring economic instability according to a recent survey by VTsIOM. A survey taken in June showed that 44 percent of Russians expected an economic crisis to break out within the next 12 months, up from 32 percent in Spring 2011.
The increased fears could have a negative impact on the banking sphere. According to the VTsIOM poll, only 3 percent of Russians are saving money. Many banks, including Sberbank, have seen client numbers drop off, according to Mikhail Krylov, a senior analyst with Alpari.
"The crisis mood is already affecting the dynamics of banking indicators: for instance, Sberbank's indicators have slowed down recently, this highlighting people's reluctance to take any risk, which translates itself into a further cooling down of the banking market and slower growth of time deposits from which money cannot be withdrawn at short notice, as well as general mistrust of the banking system and perhaps even protest sentiments that will control expectations or actual market prices," Krylov said.
Most of those who expect the economy to grow are wealthy young people and residents of Moscow and St Petersburg.
One silver lining to the skepticism is that the housing market has picked up. Sellers and buyers of apartments in the Moscow area are rushing to make deals, brokers report. They noted unusual buoyancy on the secondary housing market in June: supply increased by almost 4 percent and the number of potential buyers has grown by 14 percent. In Moscow, the number of real estate transactions picked up by 25 in early summer. Experts say that the situation is reminiscent of the eve of the 2008 crisis when people either hurried to invest in real estate or rushed to get rid of their assets before they become devalued.
The spike in activity on the secondary housing market in the Moscow Region is unusual for early summer In June, the number of applications from would-be buyers of real estate in the Moscow Region increased by 14 percent over May, said Yuri Kochetkov, senior analyst of the Domgeo.ru portal. Supply has also increased. In June, the number of apartments on offer on the secondary market in the Moscow area increased by 3.7 percent, according to Dmitry Taganov, senior analyst with Incom corporation. The Megapolis-Service Realtors' Corporation cites still higher figures: supply increased by 7 percent in June. The trend was already observable in May, added analysts from Azbuka Zhilya realty.
This text was compiled from materials in Kommersant.ru and RBC-Daily.
All rights reserved by Rossiyskaya Gazeta.