No crisis in Russian real estate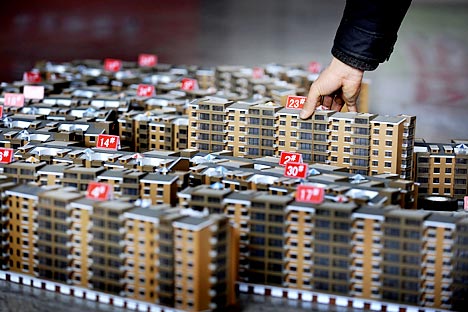 In the wake of economic instability some Russian invest in real eststate. Source: ITAR-TASS
With the global financial situation still unstable, Muscovites are deciding to put their money into real estate – very expensive real estate.
Muscovites have started to buy up luxury properties. In May alone, $90 million worth of expensive apartments were sold. According to the estimates from the Knight Frank consulting company, this is a two-fold increase over May of last year.
The demand for luxury housing is now so great that soon such properties will be in short supply, according to Yekaterina Teyn, a partner at the Chesterton consulting firm.
"There was a certain pent-up demand, because since the end of last year the luxury market slowed down somewhat. Many customers postponed their decisions to buy until the elections were over. Once the elections in March were past, people spent April searching for properties, and it so happened that in May already there were direct purchases," said Teyn. "The second aspect is the instability of the ruble. After the ruble began to fall very rapidly, many customers also decided to become active. Due to the fact that there is an unstable situation – it is uncertain whether or not there will be a crisis – people have decided to invest in real estate."
The average price of recently purchased property is $3 million. The most expensive deals were concluded in buildings near downtown Moscow (along Granatnaya Street and six involved the sale of apartments in the Barkli Virgin House complex). There the price for a condo was in excess of $8 million.
Analysts point out that in May the price of luxury condos fell by about 1 percent. However, Yelena Yurgeneva, director of the department of luxury real estate at Knight Frank, explained that the decreased prices are only an illusion.
"Some of the price reduction demonstrated by the results of the study is primarily related to the sharp rise of the U.S. dollar. The fact of the matter is that many developers have fixed the prices in rubles in the new developments, so by the end of the month you may find that the average price has decreased, although this is not really true. We are now seeing a positive trend on the market and very high customer activity. But the range is very diverse. In particular, if we take again Burdenko, 3, then there it is $14,700-$15,000, which is the lower threshold, and it goes up to $30,000" said Yurgeneva.
Since the beginning of the year, about 300 condos have been sold on the luxury real estate market for a total cost of nearly half a billion dollars. And nearly 7,000 transactions were concluded in May in the average and economy-priced segments.
First published in Kommersant FM.
All rights reserved by Rossiyskaya Gazeta.