Visiting Russia without visa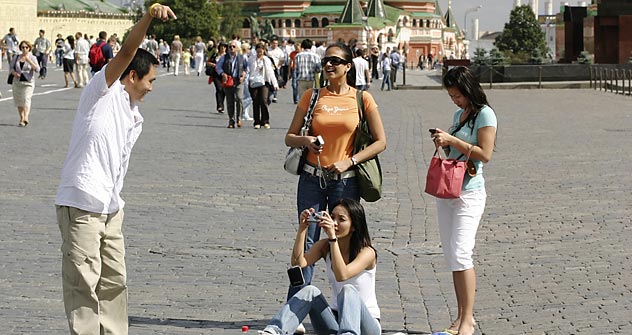 The three-day visa-free rule could increase the number of tourists in Russia and have a big impact on Russia's tourism industry. Source: Lori / Legion Media
The move, backed by the Ministry of Culture, would benefit the tourism industry.
Foreign tourists may soon be able to enter Russia for a period of up to three days without visas if the visit is linked with cultural events in Russia, according to a proposal by Olga Golodets, deputy prime minister for social affairs.
The three-day visa-free rule could be applied to certain cultural events in Russia such as the Opera and Ballet Week "so that Russia's guests might visit the Mariinsky and Bolshoi theatres or the Perm Opera and Ballet Theatre," Golodets said. A law that would make it possible is being drafted by the Culture Ministry and may be introduced in the Duma as early as October.
Some cruise ship passengers arriving in St. Petersburg have been allowed to visit Russia without a visa since 2003. In 2009, the government extended these benefits to passengers on ferries and increased the number of ports where ships could call with foreigners without a visa to Vladivostok, Vyborg, Kaliningrad, Korsakov, Novorossiysk and Sochi.
In 2011, 2.33 million foreign tourists visited Russia.
The news was welcomed by the tourist industry. "The initiative might increase the tourist flow substantially. So far, no more than 10 percent of foreigners can enter Russia without a visa (if they arrive by sea)", said Maya Lomidze, executive director of the Association of Tour Operators of Russia (ATOR).
The abolition of visas for visitors to cultural events will increase the flow of foreign tourists, said Lyudmila Kudryavtseva, general director of the Baltic Travel Company. She added that since 2003, when visa-free travel was first introduced, the number of foreign cruise liners calling at St. Petersburg ports has been growing by 10–15 percent a year.
"The visa is the main hurdle for a foreign tourist to Russia: it is expensive and difficult to obtain," said Marina Levchenko, general director of Tari Tour, which arranges trips for foreigners. According to Levchenko, a week's trip to Russia costs at least 1,000 euros ($1,200).
Lomidze said that the increase in the number of foreign tourists will depend not only on the cancellation of visa, but also the events that will qualify for the exemption. She suggested that Maslenitsa (Pancake Week) and the cultural and historical events in the Golden Ring cities would be interesting for potential visitors along with opera and ballet festivals.
First published in Vedomosti.ru.
All rights reserved by Rossiyskaya Gazeta.