Sberbank climbs into the Top 20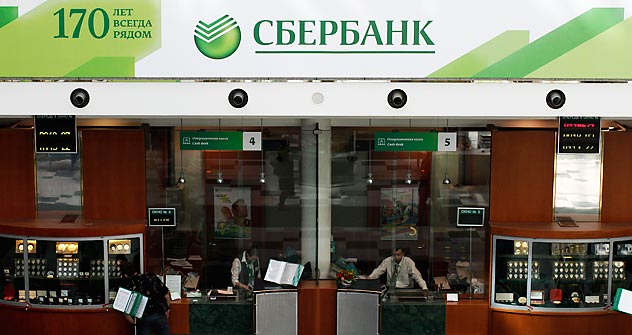 Sberbank, Russia's biggest bank, has shown consistently strong financial results and continues to buy up stocks in its quest to become a major global player, according to Russia's portfolio managers. Source: Getty Images / Fotobank
Russia's biggest bank has ranked 17th on the list of the world's highest value banks. Now it is aiming for the Top 10.
With a market capitalization of $62.4 billion, Russian retail banking giant Sberbank has made it into the ranking of the world's 20 highest-value banks. Last week, it tied for 17th with U.S. Bancorp, and at one point, it even rose to 16th position in the course of trading, jumping ahead of the Australian & New Zealand Banking Group.
In order to achieve its strategic target of moving into the rankings of the world's 10 highest-value banks by 2014, Sberbank has to increase its value by $15 billion, or almost a quarter. Since the start of the year, Sberbank's share prices have jumped 13.5 percent.
The bank has shown consistently strong financial results and continues to buy up stocks in its quest to become a major global player, according to Russia's portfolio managers.
Oleg Vyugin, chairman of the board of directors of MDM Bank said that Sberbank has achieved its success by first relying on state support to lower its rates and win key corporate clients; later, its unlimited resources aided the bank in the switch to the more lucrative retail business.
Vyugin added that Sberbank owes its success today not so much to its rising capitalization as to the falling stocks of most global banks. Vyugin believes that the situation on world markets will continue to play into Sberbank's hands, making its plans to reach the top 10 feasible. The crisis in Europe is not yet over, there are still doubts about the U.S. economy and oil prices remain high, at over $100 per barrel.
"One can make money in Russia, while Europe, with its capital shortages, is less attractive for earnings and its banks are doomed to continue losing value," Vyugin said.
But the crisis will not spare Sberbank either, said Artur Akhmetov, a senior analyst at financial investment company Solid, adding that despite the problems faced by its rivals, Russia's leading bank is unlikely to enter the top 10. Ekaterina Trofimova, senior vice president at Gazprombank, said that Sberbank can join the top 10 only if the capitalization of other banks fell.
Sberbank Deputy Chairman Bella Zlatkis reaffirmed that the strategy to break into the top 10 is feasible. "This has nothing to do with the problems of global banks. In preparing this strategy, we relied not on global economic problems, but on new technology that will raise the bank's profits."
Alexander Pertsovsky, the chairman of Renaissance Group in Russia, said that Sberbank really started to grow when the mistakes made by the biggest western banks became obvious and Sberbank's management worked to avoid them. Pertsovsky added that Sberbank's successful performance is also supported by the fact that emerging markets are becoming new growth centers amid continuing gloom on international markets.
First published in Vedomosti.ru.
All rights reserved by Rossiyskaya Gazeta.