Russian authorities may forbid officials to keep money abroad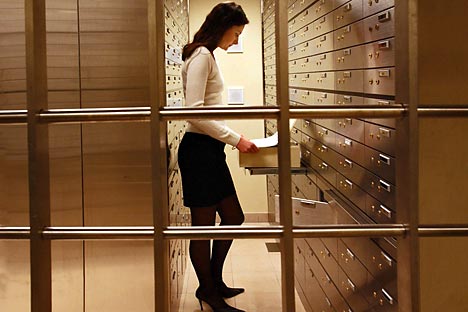 A bill proposed by Russia's State Duma, will prohibit Russian officials from keeping money in foreign banks. Source: ITAR-TASS
A bill to be introduced in September will require Russian officials to keep their savings in Russian banks.
In September, State Duma deputies from the Just Russia party plan to introduce a bill prohibiting Russian officials from keeping money in foreign banks. Mikhail Emelyanov, one of the deputies behind the initiative, said that the law "is necessary to preserve the sovereignty of Russia and make its officials independent of foreign influences."
"In upholding our sovereignty, we do not want our decisions to be influenced from outside," Emelyanov said. "Officials who keep their money abroad become vulnerable and amenable to foreign influence. The ban must apply to them and their relatives."
Other Duma parties have expressed tentative support for the proposal, although deputies from the Liberal-Democratic Party of Russia (LDPR) have said that problems could lie in enforcement. "How can you monitor the activities of spies, for example? They work in one country and money is deposited in their account in another country. This is impossible to track down," said LDPR deputy Sergei Ivanov. "No politician or bureaucrat in his sane mind would take a bribe and carry a suitcase full of the money across the border, because this is a crime. They have ready schemes for rendering services and getting remuneration."
Ivanov also recalled that the Russian authorities took almost a year to track down the owner of Domodedovo airport and it will be just as difficult to identify the true beneficiaries of enterprises registered in offshore zones.
For their part, the Communists in the Duma have come out in favor of the bill. "We will certainly support such amendments to the legislation; they make sense. There are unfortunately, some deputies who keep their money abroad. But, in addition to the political element, the bill has far-reaching economic implications. We keep saying that money should not flow abroad, so we should begin with ourselves," said Communist Duma deputy Anatoly Lokot.
Some experts doubt that adoption of yet another law will actually result in less corruption. "We have passed a large number of such laws, but their enforcement is still in question. So what is the point of introducing yet another one?" said Nikita Maslennikov, an adviser to the Modern Development Institute. Maslennikov thinks the laws that have already been passed in Russia are enough for law-enforcement agencies to do their job well.
"Law enforcement is a matter of political will. We have fairly good financial monitoring by world standards and it can trace any cashflows. There is nothing to prevent the deputies from submitting enquiries to the head of [state financial monitoring agency] Rosfinmonitoring, inviting him to the Duma to report and organizing annual hearings on high-profile money laundering cases and transfer of large sums abroad," Maslennikov said.
Many Russian bureaucrats say they prefer to keep their money abroad because Russian banks are risky and that it is better to keep savings in different currencies and in different countries. Members of the opposition, however, claim that this practice engenders corruption. No official statistics are available on the amounts of money Russian bureaucrats keep in foreign banks, but, according to polls by the Levada Center, 70 percent of Russians are sure that top officials have foreign bank accounts, and 24 percent agree with them, though they are not completely. The response was "most probably yes."
First published in Russian in Izvestia newspaper.
All rights reserved by Rossiyskaya Gazeta.