Russian software export to grow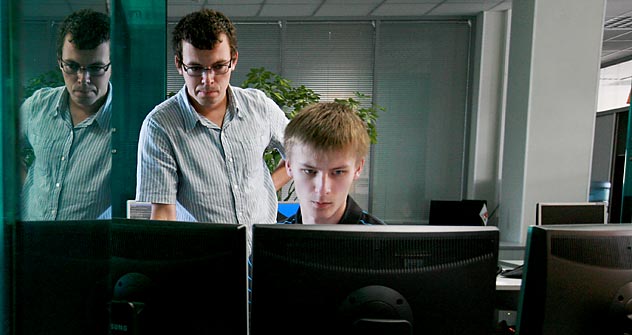 Kaspersky Lab, one of Russia's leading software company, had the lion's share of the software market, with approximately $200 million. Source: ITAR-TASS
Software exports from Russia may reach $5 billion in 2012, but experts say state support is needed to grow the sector further.
Valentin Makarov, head of software industry trade group RUSSOFT, declared at the St. Petersburg International Economic Forum in June that Russian software exports may reach $5 billion 2012 – up from $4 billion in 2011 and $3.1 billion in 2010.
A RUSSOFT report, published early in 2010, said that in 2009, exports of IT services accounted for $1.4 billion of the $2.75-billion total for exports. The share of readymade solutions exports stood at $1.03 billion. The turnover of Russia-based international software design centers amounted to $320 million.
Some industry experts do not agree that all these categories should be lumped together and labeled "Russian software exports." For example, they argue that IT services exports cannot be counted as software exports since these services include contracting out software design as well as all kinds of IT outsourcing, testing, software customer support, training and others. In some cases, the software development centers designing software counted as Russian exports are located in Russia, but are owned by foreign companies.
Data provided by research company IDC show that Russia is the third-largest software solution exporter in the world after India – which is ranked first, with its software exports nearing $50 billion – and China. Russia is gaining on its Asian competitors, however, as the country's hi-tech companies are growing and expanding outside Moscow and St. Petersburg. In addition to expanding into regional centers, some Russian software firms have also opened centers abroad, including in Hungary, the Czech Republic and Bulgaria.
The Luxoft Company was the first Russian company to open a software design center in Vietnam. Founded in 2000, Luxoft provides a wide range of services creating custom-made software designed for various platforms and technologies. The company has a staff of about 4,000 people employed in development centers in Russia, Ukraine, Vietnam, Romania, the UK and Poland. Its key clients are located in Europe and the U.S., and include Deutsche Bank, Boeing, UBS, IBM and many others.
Another leading Russian software export firm is EPAM, which develops tailored software solutions and offers consulting services. The company was founded in 1993, and opened its first foreign offices in the U.S. and Belarus. Later, the firm added a central North American office in Lawrenceville, NJ, and a central European office in Hungary along with branches in the UK, Germany, Russia, Kazakhstan and other countries. Today it employs more than 5,500 people.
According to RUSSOFT's data, the market of ready-made solution exports in 2009 was estimated at $1.03 billion, up 28 percent from the previous year. Kaspersky Lab products had the lion's share of the market, with approximately $200 million. Other big software products and solutions exporters included Transas (navigation systems and air and maritime device simulation); CBOSS (automation solutions for telecommunications companies); Parallels (virtualization and automation software), ABBYY (electronic dictionaries and OCR character recognition systems); Paragon Software Group (system utilities for data management on hard drives and software for mobile devices) and SPIRIT DSP (embedded voice, video and data communications software). These seven companies account for over 60 percent of the total ready-made software solution exports.
In a recent interview with Russian daily Vedomosti, Luxoft CEO Dmitry Loshchinin said that while established companies are growing, no new players are emerging on the market. He added that the share of medium-sized Russian IT companies that are ready to operate globally is extremely small. He cited a lack of experienced management as one reason for this.
Other experts blame the state for a lack of support in this sector. Makarov suggests that the state should engage universities by placing orders for scientific research, which will involve both students and professors, thereby strongly encouraging technological advances. If necessary, other companies could be subcontracted for these purposes. According to Makarov, students will benefit from such an arrangement, as they will have an opportunity to gain valuable experience while using cutting-edge technologies. Additionally, the government could promote growth in this sector by training young IT specialists and giving tax-breaks to hi-tech companies.
All rights reserved by Rossiyskaya Gazeta.