Five reasons to go to Khabarovsk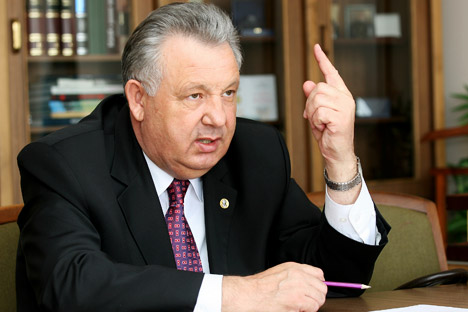 Viktor Ishaev, the presidential envoy to the Far East Federal Area: in order to encourage people to go to Russia's Far East, five tasks must be fulfilled: jobs with living wages, a housing program, a healthcare program, an education program, and a cu
More than 9 trillion rubles will be invested in the development of Russia's Far East by 2012.
During the Soviet era, Russia's Far East was a magnet for young people chasing their dreams and those looking for a life outside the ordinary. Today, the region has no such reputation, although efforts are beginning to encourage more Russians to take a new look at the region. The development of the remote regions will be discussed during the APEC CEO Summit 2012, which will take place in Vladivostok at the beginning of September.
Viktor Ishaev, the presidential envoy to the Far East Federal Area, spoke to Marina Gritsyuk of Rossiyskaka Gazeta about life in the territory.
Rossiyskaya Gazeta:Some 30–40 years ago, a young person fresh out of college and moving to the Far East received a free air ticket, a resettlement bonus and an apartment a year after moving there. Can you give at least three reasons why a recent graduate would want to take a flight there today?
V.I.: It's hard to measure up to the past. Back in the day, spending some time in the North would secure a comfortable future not only for yourself but also for your children and grandchildren. People moved to the Far East because it was possible to survive there. Today, the situation is different. So, in order for people to once again have a reason to go there, five tasks must be fulfilled: jobs with living wages, a housing program, a healthcare program, an education program, and a cultural development program.
But the current financial crisis has demonstrated that, in order to develop and survive, Russia must be friends not with Europe alone. Europe has achieved a good living standard and won't see high growth rates anymore. Life itself is forcing us to turn around and face the East. This is precisely what's happening right now. Russia has realized that it must work in the Asia-Pacific region. And the Far East is our front, a structure through which our country can integrate into or at least develop trade and economic ties with Asian-Pacific countries.
Russia has channeled serious investment into the Far East. Some 3.3 trillion rubles ($102 million) will be invested by 2015 in projects that have already been launched there. Investments will reach more 9 trillion rubles ($279 million) by 2018–2020. This alone is reason enough for young people to start thinking about moving there.
The region's job market offers 120,000 vacancies. It employs 160,000 foreign workers, which means manpower is in short supply. There is a shortage of good specialists to build a pipeline or implement other projects, even though wages in the Far East are higher than in European Russia. Some companies help their workers with housing. The military has an undistributed stock of four thousand apartments. There are good universities and opportunities to receive a quality education free of charge. These factors mean people can come and live a dignified life."
R.G.: Air and rail fares from Central Russia to the Far East rose significantly this year. Why is that, and can they be expected to come down?
V.I.: The only problem is monopoly. I cannot tell an airline boss to cut prices. We have the Anti-Monopoly Service for this and they must monitor the competitive environment. But apparently the existing mechanisms are not working."
R.G.: How is medium-haul air travel developing in the Far East? There are many areas there that can only be accessed by air, aren't there?
Ishaev: We need air hubs. But this project is not so easy to implement. In reality, regions and municipalities can't afford their own airlines, even if the federal budget pays for the infrastructure and landing strips. In theory, major airlines should take full care of the territory and set up routes both within and outside it, including internationally. But we haven't been able to build a convenient transportation network so far.
First published in Russian in Rossiyskaya Gazeta.
All rights reserved by Rossiyskaya Gazeta.