Remembering the 200-year-old friendship between Russia and the U.S.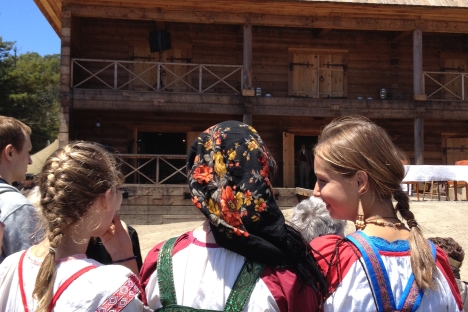 The 200th anniversary of Fort Ross, Russia's former settlement that turned the U.S. historic state park, brought together many tourists. Four thousand people attended the event on Saturday and two thousand attended on Sunday. Source: Press Photo
The Fort Ross Bicentennial celebration was a scene of tourists, Russian-Americans and dignitaries; for a weekend, they ignored politics and basked in the glow of good feelings.
Sun-drenched meadows stretched below the solid wooden construction of the 200-year-old fortress Fort Ross, a former settlement turned historic state park. On this past weekend, Fort Ross celebrated its bicentennial flooded with people in traditional dress and visitors aspiring to get a feel for California's diverse history. Some listened to concerts while sitting on haystacks and facing the ocean's blinding reflection of the sun. Overall, it was a great time to reflect on 200 years of Russians in America.
"Today's festival celebrates episodes of the common history of Russia and the U.S.," said Sergey Kislyak, ambassador of the Russian Federation to the United States. "Our culture talks a lot about Russian character and it is important for Americans to know who Russians are," he said. Kislyak said that much has been done in recent years to put relations between countries on a solid footing while the countries work together on common interests.
"Fort Ross is a special place where peoples from many different cultures have always come together in peace and harmony," said U.S. Sen. Noreen Evans (D-CA). She said that she appreciates the assistance of Russian companies in restoring Fort Ross State Park and stated her commitment to preserve the park despite the current budget deficit "so future generations will be able to come together in this special place as our ancestors did." Fort Ross almost closed a few years ago, but instead is experiencing a renaissance. Two films, a documentary and a feature film, have been made about its rich history.
Fort Ross was founded 80 miles north of San Francisco by Russian explorers in 1812 to support Russian settlements in Alaska. The colony was created to produce food much needed in Alaska and to expand the sea otter trade. Fort Ross was an entrepreneurial community, and involved the cooperation of people of different nationalities, like Russian, Spaniards, Mexicans, and indigenous peoples. But the founders eventually struggled to keep it going, and finally sold the fort to American John Sutter in 1841.
The park attracted many officials from both Russia and America this weekend, as well as representatives of other communities who lived in Fort Ross. Several Russian ensembles and folk dancing groups came to bring authentic flavor to the celebration.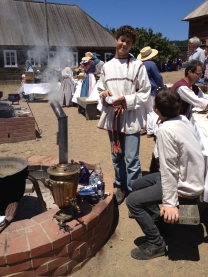 The Fort Ross Bicentennial celebration. Source: Press Photo
"Today the atmosphere is just wonderful, and the weather is beautiful. I learned about California things I did not know before," said Marsha Montbriand, a local nurse. She came to Fort Ross for the first time 40 years ago, but it was not as exciting as on this day of bicentennial celebration, she said.
"The Russians built the first windmill in California," said Glenn Farris, an archeologist, indicating that there were several windmills at the location, but none of them has been rebuilt yet. The Spaniards mostly used water mills, he said. Farris first started working with the project more than 30 years ago and helped with the excavation of the warehouse that is now being rebuilt. He also has edited a collection of documents related to Fort Ross and issued a book "So Far From Home: Russians in Early California," that explores the life style at Fort Ross in its heyday.
"For the United States it is very exotic," he said, "Many people are not aware that Russians at one time had a piece of California and lived here."
"Fort Ross is a special project, it is a unique place that preserved presence of Russians in California," said Mikhail Shvydkoy, the Russian president's envoy for international cultural cooperation. He said that this project is a good example of people with different ideas and views living together. He pointed out that even preparations for this event drew together different groups of people: Russian government, Russian patrons, California state officials, and finally local volunteers from California who consider this park part of their history.
Many visitors came dressed up in traditional shirts or shawl and participated in dancing, watched small plays picturing life at the time of active trade at Fort Ross and watched cannon firing shots. More than 3000 people visited Fort Ross just on the first day of celebrations, according to park officials.
"History ties us all together," said Gail Brown, a photographer from Sacramento and a sixth generation Californian. "I am thrilled because I grew up in California and I am here where it all happened," she said. Brown has been to Fort Ross six times already.
All rights reserved by Rossiyskaya Gazeta.