Russia launches study on water reserves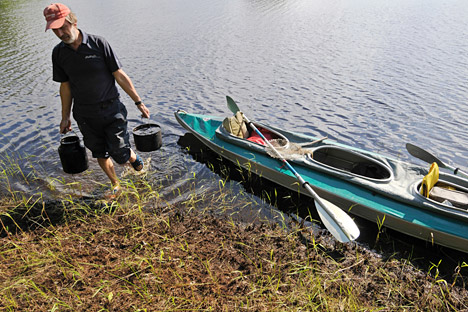 The Russian authorities are ready to pay 1.4 million rubles ($44,290) to understand the danger a shortage of fresh water might pose for the country. Source: PhotoXPress
Although Russia does not presently face a freshwater shortage, the government has commissioned a study to determine how such a deficit would affect the country.
The website that posts orders for government procurement has announced a tender for an analytical study on "Conflict and Crisis Situations in the States and Regions of the World in the Conditions of Global Climate Change Arising from a Shortage of Fresh Water or over Use of Crossborder Water Resources." The Russian authorities are ready to pay 1.4 million rubles ($44,290) to understand the danger a shortage of fresh water might pose for the country.
The authorities' fears are not without foundation. The United Nations released a report in March on the catastrophic drinking water supply situation in the world. According to the report, one in every 10 people lacks access to drinking water and independent specialists claim that one in every four people is short of drinking water.
The UN report notes that the drinking water shortage stems, among other things, from global climate change and the growing need for food and the hygienic needs of the world's burgeoning population. Compounding the problem is the uneven distribution of water between the continents: Asia, the home of 60 percent of the world's population, has only one-third of the water resources.
Analysts project that by 2050, the planet's food needs will increase by 70 percent. Global water consumption for agriculture will increase by 19 percent, by which time almost 90 percent of the world's fresh water resources will already have been tapped. "The use of fresh water is not rational. The future is increasingly uncertain and the risks are mounting," said Irina Bokova, UNESCO Secretary General and one of the report's co-authors.
UNICEF and the WHO say that only 89 percent of the Earth's population has access to drinking water today, and about 783 million people use polluted sources of water. About 40 percent of these people live in sub-Saharan Africa, the part of the world where the population is growing faster than anywhere else.
Experts from the French charity Solidarities International are even less optimistic. In their opinion, today 1.9 billion people – one in every four people on Earth – have no access to drinking water.
First published in Russian in RBC Daily.
All rights reserved by Rossiyskaya Gazeta.