Marussia F1 Team grows up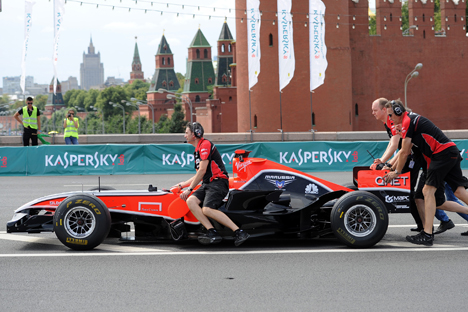 The Marussia F1 Team has repeatedly told the media that at this stage the main objective of the team is not so much to win as to tune up, while specific targets should be set in three or four years. Source: ITAR-TASS
The international team with a Russian brand sets its sights on the future in a visit to Moscow.
The Russian F1 team has paid its second visit home. This time, Marussia arrived in the heart of Russia, in downtown Moscow, to participate in the Moscow City Racing motorsport show near the Kremlin walls.
Marussia CEO Andy Webb thanked the Russian fans for the rapturous welcome. "Formula 1 is growing popular very quickly here, and it's just amazing how much these fans know about this sport," Webb said at a press conference. Indeed, Russia has many F1 fans. VKontakte, the most popular Russian social network, has about 100 groups involving around 12,000 people focusing on the first Russian F1 team.
Russia is also building its first racetrack for Formula 1 in Sochi. Mikhail Gorbachev, an expert on F1 racing believes that Russian fans learned the ropes of the sport due to the extensive F1 television coverage in recent years. "But I don't expect pilgrims from around the country to the Sochi track. All the fans from Russia, the CIS and the Baltic States already quenched their thirst for F1 Grand Prix events either in Hungary or in Turkey," Gorbachev says.
Marussia identifies with Russia not only because its name is an old Russian name for a pretty girl. The team competes under the Russian flag and its engineering director is popular TV presenter Nikolai Fomenko. CEO Webb said that Fomenko inspires the entire team. "I know that he is very talented; wants to be a millionaire and his enthusiasm is unshakable," Webb said. "He seems to have huge popularity in Russia. So we want the people to support him. And also his personality makes the team work. We want the team to understand Russia, and Nikolai will do that."
Gorbachev argues that while Fomenko is definitely a draw, he can't make the team successful on his own. "Fomenko is a legend, but to succeed, the team needs a specialist with vast F1 experience," Gorbachev said. "We have specialists of this kind, and I would rely on one of them. If we decide to have an F1 team once and for all, then I guess we'll make progress."
The rest of the Marussia F1 Team is international, led by Britons Andy Webb, John Booth and Graeme Lowdon. The team's drivers are Charles Pic of France and Timo Glock of Germany. Spaniard María de Villota is the team's test pilot.
And the race car itself is actually not Russian. Marussia Motors collaborated with the UK's Cosworth and Virgin Racing to construct the vehicle.
"The creation of the team indeed came as a surprise," said Alexei Popov, a prominent Russian F1 commentator. "I thought that the project would be limited to marketing the Cosworth brand. On the other hand, while they made a formally Russian team, the owners did not make efforts to Russify its personnel, even as a long-term project. There are no Russian-speaking specialists in the team this year."
But the Marussia F1 Team top managers say that they would like to make the team more Russian. "Russians have great force and traditions, a young and strong mentality about moving forward in the world. I see it everywhere here. It's like a country on the move. This is really good for Formula 1 – moving forward. Russia has good expertise, and we can really use it," Webb said. The team plans to engage engineers from Russia in building Marussia F1 Team cars. Special programs are being developed in Oxford for Russian specialists to train in the UK. "If we want to be a Russian team we need more Russia in it: in engineering, marketing, mechanics," Webb said. "My goal is to have at least 10 percent of our staff to be Russian. Now we have only 1 percent." Webb has also indicated that the team could name a Russian pilot in 2014. Also, there is an idea that there should be a Russian pilot in the team.
Marussia is still a young team and so far its results are far from impressive – the team raced in nine Grand Prix events and its best result was 14th in Australia and Monaco. However, the Marussia F1 Team has repeatedly told the media that at this stage the main objective of the team is not so much to win as to tune up, while specific targets should be set in three or four years.
All rights reserved by Rossiyskaya Gazeta.