Russia not popular for cybercriminals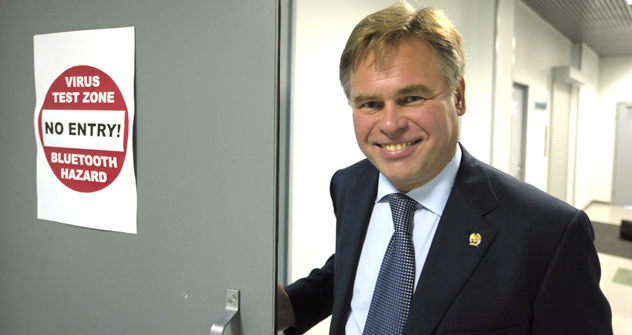 Russia accounted for only 5 percent of cybercrime in 2011. Pictured: Eugene Kaspersky who founded Russian multi-national computer security company, Kaspersky Lab. Source: RIA Novosti
According to recent surveys, Russia accounted for only 5 percent of cybercrime in 2011, although the thefts resulted in $1 billiion worth of damage.
According to a survey by the Zecurion data protection company, the total number of reported data thefts fell from 1,014 in 2010 to 819 in 2011, yet the damage caused by such activities grew many times over. In 2010, the total damage amounted to $3.8 billion, whereas last year the corresponding losses were as high as $20.6 billion. The authors of the report note that most information leaks took place in the United States (72.4 percent) and only 5 percent in Russia. Against this backdrop, the estimated $1 billion incurred by Russians in losses from theft or unauthorized publication of their data can be considered as a relatively minor setback.
The study argues that information is most often stolen from laptops and mobile phones (19.4 percent), online service platforms (18.2 percent), desktop computers (16.1 percent) and data storage devices (13.8 percent).
InfoWatch CEO Natalya Kaspersky expressed serious doubts regarding the accuracy of these statistics, but concurred with the general tendency towards a drop in losses caused by data theft or publication of confidential information on the Internet. "Clearly, the damage cause by such leaks is becoming more significant, as it is directly related to their total number and cost," Kaspersky said. "In our country, as well as elsewhere in the world, the overall value of the information is growing, owing primarily to the increasing quantity and quality of the data. Today, intruders are fully aware of how precious information is, so they are starting to steal it in greater amounts and more intricate ways."
Elena Tol, technical marketing director at ESET, believes that the leakage of confidential data is a mass phenomenon and that the relevant numbers increase several dozen times a year. "According to our data, the number of leakages and the damage caused by them exceed the figures stated in this study. Moreover, the number of criminal groups capitalizing on cybercrime is growing by the day," Tol said.
Last year, a number of big telecommunications companies suffered blows to their reputation as a result of leakages. For instance, a flawed configuration of the website owned by Russian mobile provider MegaFon led to publication of private text messages. Another large-scale leakage resulted in information on 1.6 million subscribers of MTS, Russia's largest mobile telecommunications provider appearing in the public domain. The published database included the personal data of its clients living in St. Petersburg and the Republic of Bashkortostan.
The article is available in the original Russian in RBC Daily.

All rights reserved by Rossiyskaya Gazeta.