Anti-corruption groups compete for government attention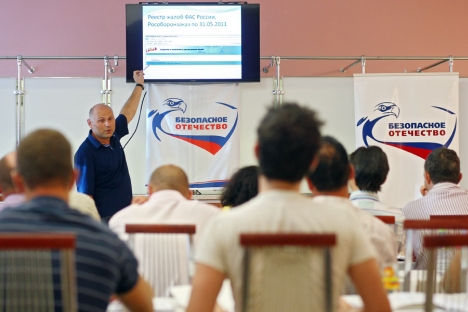 New anti-corruption organozation, Secure Homeland (Bezopasnoye Otiechestvo), will regulate the govermantal purchases and may be a rival for Blogger and opposition leader Alexei Navalny's RosPil project. Source: Nikakixno.ru / Press Photo
Alexei Navalny's RosPil has a competitor, Secure Homeland (Bezopasnoye Otiechestvo), that is attracting more positive attention from the Kremlin.
Blogger and opposition leader Alexei Navalny's RosPil project has acquired a rival supported by the Kremlin – Secure Homeland (Bezopasnoye Otiechestvo). For the past six months, Secure Homeland has been monitoring the legitimacy of state purchases all over Russia, doing basically the same thing as RosPil. Now, Russian President Vladimir Putin has entrusted the organization with training state purchase inspectors as well as an agreement to work with the Ministry of Economic Development on improving the law regulating procurement rules for state-run companies.
Secure Homeland attracted Putin's attention at recent the Seliger youth forum. While at the camp, Putin noticed the organization's stand and, after listening to a presentation, said: "We should hire you to work for us." Apparently it wasn't a joke.
With its new funds, Secure Homeland will start a pilot project to train interested individuals to work as state purchase inspectors. The program will start in October at the law school of the Moscow State University for the Humanities. The course will last approximately three months. The theory will be taught by professors, and the practical training will be conducted by the Secure Homeland leaders Vitaly Zarudin and Dmitry Zhirkov. Zarudin and Zhirkov have been training volunteers all over Russia as part of their Civil Watch project at their own expense for more than six months. They say that during this time they managed to cancel 37 illegal tenders totaling 614.5 million rubles ($19 million) and have 62 claims satisfied by the Federal Antimonopoly Service.
Zarudin and Zhirkov say they feel an obligation as Russian citizens to spend their time, money and efforts on working for the public good. Both men are professional businessmen: Dmitry Zhirkov used to own a security business and Vitaly Zarudin – a legal advice bureau. "The attempts to conduct state purchases with violations amount to 40–50 percent of all cases: sometimes it is done not due to fraudulent intent, but lack of awareness," said Zarudin.
The Secure Homeland founders deliberately distance themselves from Navalny. "We are not interested in publicity stunt and work only on our own money. Besides, we do not campaign for overthrowing the power in the country and do not consider Navalny as a rival," Zarudin said.
Navalny's lawyer, Lyubov Sobol, said that RosPil had heard nothing of Secure Homeland but also did not consider it a rival. "We do not have commercial relations. We will be happy if organizations with the same activities like ours, i.e. fighting corruption, appear. The activity area is large," Sobol said.
However, the anti-corruption groups are competitors for government cooperation. Putin gave Secure Homeland a green light to improve the law that regulates the tendering activity of state corporations and companies with state participation, although according to sources, RosPil had also applied to work with the Ministry of Economic Development on this project. At present, state-run companies de facto establish the rules of tenders on their own and public organizations have no right to control them. Zarudin believes that this is the source of many of Russia's problems with graft. "Corruption in this segment is considerably higher compared to the government agencies. In fact, until the law is improved, volunteers are able to do only 15 percent of what is possible," Zarudin said.
RosPil is also eager to participate in improving the law regulating procurement for state and municipal needs. The Ministry of Economic Development has requested that Navalny submit a more detailed proposal.
RosPil project coordinator Konstantin Kalmykov agrees that the law needs changing, even if his organization was not involved in making the changes. "The current law does not provide any public control. The first thing to do is to change the transparency conditions and define sanctions for participants. Such measures of public control as the right to apply to courts can be introduced only under these conditions. Besides, it is necessary to change the criteria used to define tender participants' status. At present, this status is defined by companies' inner regulations and this, undoubtedly, plays into companies' hands but excludes any possibility for public control," Kalmykov said.
First published in Russian in RBC Daily.
All rights reserved by Rossiyskaya Gazeta.