Entering the EU through the Back Door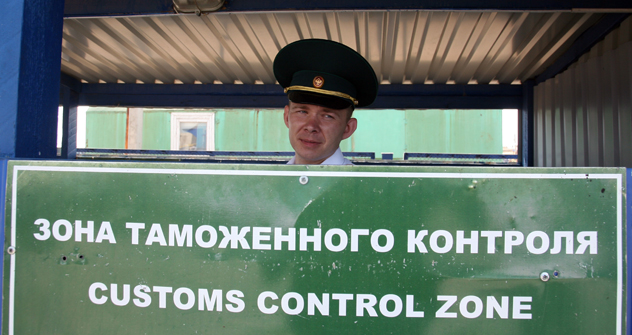 There is great interest in creating a pilot project for Russian-European integration, according to authorities. Source: ITAR-TASS
Creating a regional pilot integration zone could give a boost to relations between Russia and the EU. But which region is best? That creates a stir.
Today Russia is involved in seemingly contradictory integration processes, one with the European Union and one with the Commonwealth of Independent States and Central Asia as part of Eurasian cooperation. While Eurasian integration is gathering pace, the European integration has slowed down.
There is great interest in creating a pilot project for European integration. But there has been animated debate about which regions could be drivers of integration with the EU. A year ago, Kaliningrad's authorities declared that their region could play that part. Indeed, the unique geographical position of that territory in Europe makes it an obvious candidate for the role of a pilot site for Russia-EU integration.
Political scientist Vladislav Inozemstev argued in a recent article in the magazine Ogonyok that Kaliningrad's development must be geared toward the tasks of Russian-European integration. That should involve abolishing visa restrictions for EU countries, lifting the requirement for certification of imported industrial equipment and adopting EU standards and specifications. Inozemstev is optimistic about the results.
"This initiative will set a new precedent for the establishment of the European legal order in Russia," he wrote. "Much of the economy will move from the 'gray' to the 'white' sector. A heavy blow will deal with corruption. European companies, which are now quite eager to cut costs, will start moving their production facilities here. Kaliningrad will become a key centre of communication between Russian and European businesspeople, because mutual visa-free travel will make it an ideal venue," he added.
However, Inozemstev has as many opponents as allies. Valery Yegozaryan of the Centre for the Study of International Relations says there should be no fixation on border territories because "this is not the 16th century." "One does not have to travel by foot. So any region can take part in the national project of integration into the EU," he said. He notes that looking at the structure of exports is enough to tell which Russian regions can act as drivers in the development of relations with the EU. These are above all the regions that export energy, for example, the Tyumen Region.
Aleksandr Sokolov, a political scientist and member of the Public Chamber of Russia, has suggested that cooperation in the Barents Sea region between Norway, Russia and Finland and Sweden, the latter two being EU members, holds big promise in terms of integration. He also expects "greater buoyancy" in interaction with the EU in the framework of Baltic cooperation, which involves, on the Russian side, the St Petersburg, Kaliningrad, Leningrad, Novgorod and Pskov Regions.
Sokolov also noted the potential of Black Sea Economic Cooperation, which brings together 12 Black Sea and Southern Balkan countries. "I think the prospects for this cooperation are very good. In my opinion, all of the parties in this cooperation have a big stake in promoting integration processes," Sokolov said.
Eurasian integration can be more than regional cooperation. "Our border is too long, almost half the length of the country. Integration here is different than in the EU, where integration is regional because there are regional interests in economic cooperation. It is based not on trade and economic links but on the mentality and interaction among citizens. Decisions must be made by the top leadership of the Eurasian countries," concluded Sokolov.
All rights reserved by Rossiyskaya Gazeta.