Listeners tune in for news and traffic, not for culture or sports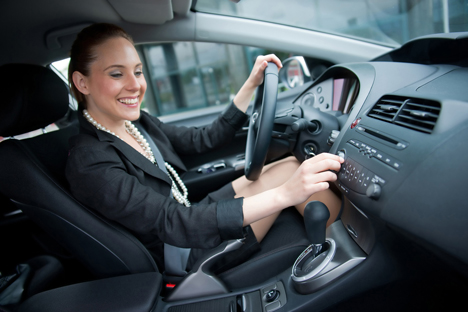 The interest in news and traffic increased by 7 percent in the first half year of 2012 in Moscow alone and by 2 percent in Russia in general over the same period in the previous year. Source: PhotoXPress
Russian radio stations are finding that the demand for local news and traffic reports are increasing at the expense of everything else.
Russian radio listeners are spending more and more time in their cars, which may explain why the prefer listening to local news and reports on traffic jams to almost any other kind of broadcasting. According to a survey by Synovate Comcon, interest in news and traffic increased by 7 percent in the first half year of 2012 in Moscow alone and by 2 percent in Russia in general over the same period in the previous year.
This increase in news programming has come at the expense of arts and sports coverage. According to the research, a year ago 11 percent of the weekly radio audience listened to reviews of new performances and exhibits, but a year later, this number had dropped to 8.6 percent.
Analysts believe the reason for the change is the increasing market share of mobile Internet. "From year to year, Russians have more possibilities to receive news from the Internet. It can explain the decreasing audience of some radio programs like those on culture, as it is easier to look through their reviews online," said Inna Zatsepina, Synovate Comcon's director of radio audience research.
The radio audience has also lost interest in sports programs. Despite the Euro 2012 championship and the Olympic Games in London, interest in sports news in Russia in general has dropped from 11.2 percent in the first half of 2011 to 10.4 percent this year. Experts from the Prof-Media Broadcasting Corporation connect this drop with the specific character of the sports content: "Up to 90 percent of Russians are interested only in soccer, but the level of Russian soccer is not very high," said Yury Kostin, president of Prof-Media.
Additionally, interest in humor and anecdotes has dropped by 3 percent. "Popularity of humor on radio is falling down in general, although the Russian audience receives it rather well. The problem is determined by the content's renovation: the number of original ideas is constantly decreasing," said Yekaterina Tikhomirova, president of the European Media Group.
The focus on news does not bode well for advertising sales. "News is, of course, one of the in-demand formats for sponsorship, but many music radio stations do not sell news sponsorship at all as a matter of principle. News should be independent, after all," said expert Maria Smirnova.
Nevertheless, according to the Russian Association of Communication Agencies, the radio advertising market in Russia increased by 21 percent in the first half of 2012 compared to the same period in 2011 and amounted to 6.2–6.4 billion rubles (about $ 200 million).
Yury Kostin, president of the Prof-Media Broadcasting Corporation, thinks that radio stations are currently unprepared to fulfill the increasing demand for news coverage. "I believe that our audience in large cities matured for local and city news long ago. Many radio stations, however, are not ready to finance the technical process of creating local news and reports. But the audience demand is growing," Kostin said.
This text can be read in the original Russian in RBC Daily.

All rights reserved by Rossiyskaya Gazeta.