Reality shows killed the video star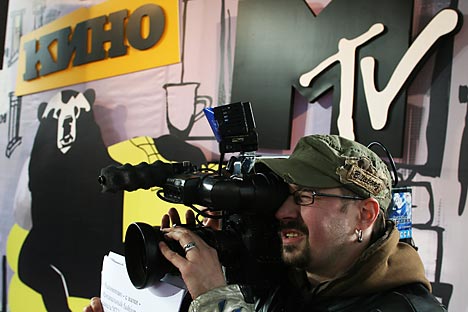 The MTV-Russia channel has long minimized the showing of music videos because they don't boost ratings, according to media experts. Source: PhotoXPress
Russia's music-oriented TV channels are following the demands of the market and rebranding themselves as youth channels.
Featuring pop music on TV has ceased to be a ratings booster for Russian channels, and soon there may not be a single state-owned channel left that even has music in its name. In the fall, Muz TV is set to become a new channel targeted at youth and next year MTV, once a cult world brand, may go off the air.
Muz TV General Director Andrei Dimitrov said that the rebranded channel, to be known as Yu, will maintain all the current programming, but the visuals and marketing emphasis will change. The broadcaster will target an audience in the 11–34 age bracket.
Dimitrov said that the relaunch was prompted by the fact that musical clips have been occupying less and less space on the channel. In the first five months of this year, the most popular programs on Muz TV, according to TNS Russia, were the soap opera "The Enchanted Ones," the "Russia's Next Top Model" reality show and "Hell's Kitchen," as well as the program "Ten Reasons for Falling in Love." On the weekends, the channel runs feature films. Muz Tv Representatives stress that it has long been a youth and not a music channel.
Muz TV, along with the Disney channel (formerly Semyorka), is part of the YuTV holding created on a parity basis by Alisher Usmanov's AF Media Holding and Ivan Tavrin's Media-1 TV. In 2011, the average daily share of the Muz TV target audience was 2.2 percent, according to TNS. RusMediaAudit estimates that the channel's advertising income may have grown by 51 percent, to 2 billion rubles.
Yet YuTV is not renouncing the Muz TV brand. The holding intends to use this name to "revive the legend" in the fall, launching a cable channel that will show videos and mainly music programs. Negotiations are already under way with cable providers, according to Dimitrov. The information was confirmed by a source at a telecommunications company. At present, only two of Russia's top 10 TV channels broadcasting primarily via cable or satellite are music channels: Ru.tv, owned by the Russian Media Group, and A-One, which has staked its fortunes on hip-hop. The former, according to TNS, has a daily audience of 1.1 million and the latter, 617,000.
YuTV does not disclose the amount that will be invested in launching Yu and the cable version of Muz TV. A total revamp of the design could cost the broadcaster up to 10 million rubles, estimates a top manager of a major federal channel. But the manager warns that the new brand will require advertising support, which will increase the cost substantially. To create a cable channel, an agreement will have to be negotiated with providers on access to their networks. In Moscow, the channel owner may pay the provider $15–18 for every new subscriber, according to a market source.
The MTV channel, Muz TV's chief rival in Russia, has long minimized the showing of music videos. "Music does not boost ratings," said ProfMedia President Rafael Akopov in December 2009. The audience of the once-iconic brand is steadily shrinking: in 2011, the daily share of MTV's target audience dropped by 0.6 percent to 1.6 percent. In January-June this year, however, the average daily share of MTV's target audience grew by 0.09 percentage points to 1.67 percent, whereas that of Muz TV dropped by 0.11 percentage points to 2.21 percent.
ProfMedia reports has owned Russian MTV since 2007, and every year it remits to MTV Networks, which is part of the American media concern Viacom, "a basic license payment of 7.5 percent," as well as "an operational network charge, payment for air design and platform." The press services of ProfMedia and Viacom's Russian office declined to disclose the details of the license agreement. RusMediaAudit puts MTV's advertising profits last year at nearly 1.35 billion rubles. If 7.5 percent is calculated on the basis of proceeds, last year ProfMedia could have paid a minimum of 101 million rubles for the right to use the MTV brand in Russia.
In July, ProfMedia consolidated its three channels – TV-3, MTV and 2x2 – into a single holding headed by Nikolai Kartozia. In a press release, Kartozia said that his task was to capture the state-owned channels' youth audience and not to let them get bored: "That will call for many new solutions." Experts believe this is an indication that next year ProfMedia is likely to scrap the MTV brand.
First publihsed in Russian in Kommersant Daily.
All rights reserved by Rossiyskaya Gazeta.