Preparing Russia's economy for a leap forward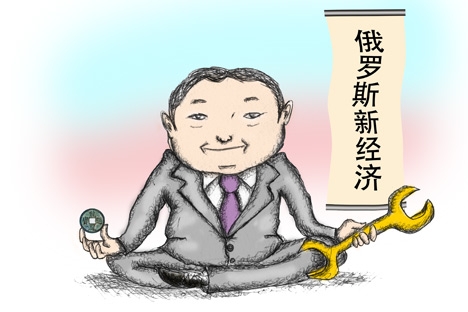 By choosing Sergei Glazev as his economic adviser, President Vladimir Putin shows that he is ready to take on the new economy of the future.
A report released on Aug. 3 by the International Monetary Fund bears the intimidating title: "Russia needs deep reforms to maximize its growth potential." The fund projects that Russia's GDP will grow 4.5 percent in 2012 and 3.9 percent in 2013, assuming that oil prices remain stable and the government takes steps to reduce its dependence on natural resource exports and attract foreign investment. Even so, compared with the near-depression state of the economies of developed countries and slowdowns in China, India and Brazil, Russia has now become a bright spot on the gloomy world economic picture.
However, it seems that President Vladimir Putin does not find much to celebrate in his country's economic situation. The trauma of Russia's rapid transition from boom to bust in 2008-2009 is still fresh, and the protests of the last six months have showed the failure of post-Soviet Russia's social and economic policies in a new light.
"We believe that a fundamental solution lies in construction of a new economy that would be resistant to various kinds of shocks and will be able to achieve high growth despite severe external pressures," said Putin at the International Economic Forum in St. Petersburg last June.
Prime Minister Dmitry Medvedev made similar comments recently. "Hardly anyone doubts that the world is at the threshold of transformation into a new technological mode," Medvedev said, emphasizing Russia's need "to jump-start new industries and radically improve business climate."
These statements are not just wishful thinking. They are indications of a change in economic thinking and a desire to draw a roadmap for future economic development. For this purpose, the Kremlin is devising a state mechanism that will enable the economy to meet global challenges. The creation of the Presidential Economic Council in mid-July is a step in this direction. The Council is intended to advise the government on how to prepare guidelines for Russia's social and economic development, devise the strategy and tactics for its implementation as well as to propose an efficient mechanism for the economy's stable growth and technological renovation. This 31-member-strong think tank is composed of government executives, heads of business associations, prominent businessmen and economic scholars.
Perhaps more importantly, however, was Putin's July 30 appointment of Sergei Glazev as his economic adviser. Glazev's role in the administration will be to coordinate the activities of federal agencies in fostering integration within the Customs Union and the United Economic Space of Russia, Belorussia and Kazakhstan. As a top Russian executive in both organizations, he has already established closer economic ties between the three states and is hopeful about expanding the integration to other former Soviet republics. But it is not these achievements that make his appointment significant for Kremlin's search for fresh ideas. Sergei Glazev, a renowned politician and a brilliant economist is a determined opponent of neoliberal ideology and practices that have been prevalent in Russia in the last 20 years.
Glazev asserts that the "Washington Consensus" neoliberal policies followed by the Russian government have been detrimental to the economy. They have made the country a natural resources colony of the West, resulted in a trillion-dollar loss of capital and blocked the creation of a sound banking and investment system needed for funding diversification and renovation. In Glazev's opinion, Putin is now set on a course of restoring Russia's economic sovereignty and initiating its independent development. This was demonstrated by his anti-crisis policies, by the creation of economic development agencies and state corporations as well as by restoring state control over oil and gas revenues and adoption of other measures for stimulating investment and innovation.
The unfolding global economic crisis, Glazev believes, presents a challenge and a chance for Russia not only to escape dire consequences of the global crisis, but even jump on the wagon of a new technological mode. Its core clusters are the nano-, bio-, information and communication technologies that in a matter of three to five years are likely to become the major drivers of the global economy. Russia's economic success depends on how fast it can activate its potential and develop these industries, thereby linking the Russian economy to the technology-driven future. In an article entitled "How to saddle the wave" published in Nezavisimaya Gazeta, Glazev pointed out the need to concentrate the efforts of the national finance and investment systems and apply state administrative and legislative leverage to the creation of core clusters for the new technological mode. Despite its currently underdeveloped economic potential and the threats of oncoming global crisis, Glazev writes that Russia is in a position to accept this challenge. A system of strategic planning of diversification and innovation and their coherent governance will not only ensure the country's economic survival. This will create prerequisites for a Russian economic miracle and not less than 8 percent annual economic growth.
Glazev's ambitious proposals have little in common with the "deep reforms" suggested by the IMF. And his ideas are hardly shared by those in the Russian government and business elite who are happy with the existing order of things. So it rests mostly with Putin and his men to accept or decline Glazev's road map to a Russian miracle. But in this connection, it is worth remembering the economic history of the current technological wave, which was saddled in the 1960s by Japan, South Korea and later by China. Their economic miracles were activated and sponsored by governments and heavily invested by private businesses.
Despite all its drawbacks, the Russian state-oligarchy capitalism has similar opportunities for a miracle economic performance – it possesses institutional and intellectual potential for a leap forward in technological development. The deteriorating global economic situation that aggravates Russia's dependence on world markets makes such development a matter of economic survival.
Felix Goryunov is a Moscow-based economic journalist who has covered international economic and trade issues for over 30 years.
All rights reserved by Rossiyskaya Gazeta.