Young specialists stay in the regions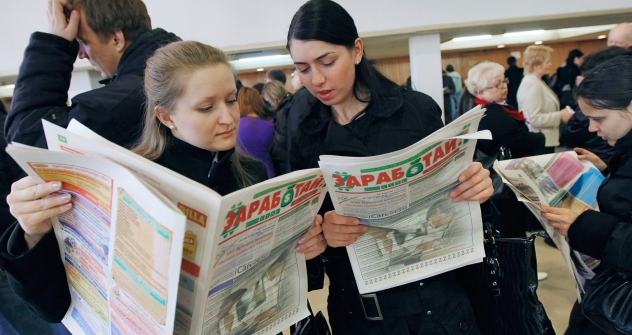 Oddly enough, graduates of Russia's higher educational institutions now find the difference in incomes between Moscow and regional cities far less enticing than it used to be just a few years ago. Source: RIA Novosti / Ruslan Krivobok
A new survey shows that while experienced workers make enough money in Moscow to offset additional costs, recent graduates should stay closer to home.
Moscow's career opportunities and higher incomes have traditionally lured accomplished young specialists from across Russia to the capital, but a recent study has shown that it is no longer financially expedient for young professionals coming from Russia's regions to conquer Moscow.
A recent survey by consulting firm CASE tracked the size and structure of salaries and compensation packages in various sectors of the Russian economy by region. The research covered 80,000 employees working in 525 Russian and foreign companies in various sections of the economy in Russia's 12 biggest cities: Moscow, St Petersburg, Nizhny Novgorod, Samara, Kazan, Krasnodar, Rostov-on-Don, Ekaterinburg, Novosibirsk and Vladivostok.
According to its findings, regional salary ratios vary dramatically depending on location. Taking Moscow as 100 percent, salaries in St. Petersburg reached 81 percent of the whole while salaries in the regional capitals of Samara and Kazan hover around 50 percent. These figures are non-industry specific.
Although it may seem obvious that the right place to make money is Moscow, the survey found that for recent graduates, unlike for experienced professionals, there is not much of a gap between salaries in the regions and salaries in Moscow.
For instance, the pay of a young professional in St. Petersburg is on average 5-10 percent below the relevant figure in Moscow, while the average salary ratio for St Petersburg is 19 percent below that for Moscow. In Vladivostok, young people tend to earn an average of 20-25 percent less than in Moscow, with the regional ratio at a mere 68 percent. In Novosibirsk, a recent graduate is likely to earn 20-30 percent less than in Moscow, with the general salary ratio for Siberia being 57 percent. In Samara, salaries are almost half the Moscow level, while young professionals make just 30-35 percent less.
Factoring in the cost of living in Moscow considering of public transport, prices and rent, it is obvious that there is no reason for young professionals to move to Moscow at an early stage of their career. Graduates of a local university will be far better off launching their careers in their native cities where they have established basic business contacts and where they have no need to rent or bear other expenses required to live in Moscow.
Statistics show that, with rents factored in, the aggregate income of a young professional in Moscow is lower than nearly everywhere else in Russia, even without costs related to public transport, communications, utility bills, food, medical services, recreation.
For this reason, graduates of Russia's higher educational institutions now find the difference in incomes between Moscow and regional cities far less enticing than it used to be just a few years ago. It does not even cover rent. And if the young professional has to invest in additional education or plans a family, the gaping budget shortage of the individual specialist widens even further.
This article is available in the original Russian in RBC Daily.
All rights reserved by Rossiyskaya Gazeta.