Radical Islam grows in Tatarstan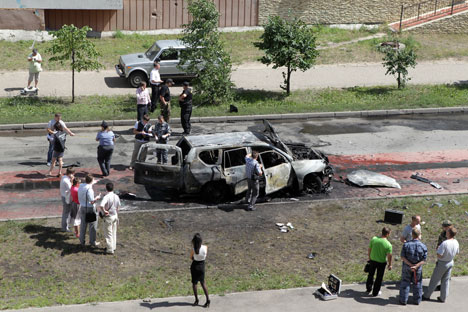 The Tatarstan mufti's service car was blown up in Kazan on June 19, causing fatalities. Source: ITAR-TASS
A group calling itself Mujahideen of Tatarstan claimed responsibility for the recent attack on a major religious leader.
The Tatarstan regional branch of the Russian Investigative Committee has discovered new material related to the attempt on the life of a major local religious figure that took place in Kazan on June 19. A video recording shows a man in a military uniform who calls himself "an emir of the Mujahideen of Tatarstan" and assumes responsibility for the terrorist act. The video, which appeared on YouTube on Aug. 4, was filmed in the forest with a background of a black flag with an Arabic inscription.
Andrei Sheptitsky, aide to the head of the Tatarstan investigative branch, said that this man has been identified as 36-year-old Rais Mingaleyev. Russia's Central Spiritual Governance for Muslims has not commented on the video clip or on the warrant that has been issued for Mingaleyev and another man, Robert Valeyev, in connection with the attack.
This new video is the second attributed to the Mujahideen of Tatarstan to appear online. In the first clip, which appeared July 19, six men are standing in masks with automatic weapons, while a seventh, calling himself "a war emir of Tatarstan," reports that the "Mujahideen of Tatarstan" swore allegiance to Doku Umarov, the self-proclaimed emir of the Caucasus Emirate, in 2007.
Rais Suleymanov, head of the Volga Regional Center of ethno-religious studies of the Russian Institute for Strategic Studies, indentified Mingaleyev as "a Chistopol native, now living in one of the forests in the Zakamcky region of Tatarstan." Suleymanov went on to say that there is a military training camp set up in this area.
Sociologist Sergei Sergeyev does not believe that the video was necessarily meant to mock the authorities. "I don't believe that the video of the 'mujahideen' is a provocation and I don't rule out that there could be a 'forest community' in Tatarstan. There were and are conditions to increase moderate adherents of radical Islam," Sergeyev said.
Tatarstan Minister of Internal Affairs Artem Khokhorin acknowledged that there are armed radical groups operating in the republic. Speaking at an extraordinary session of the State Council on Aug. 3, he said that an "undeclared war" has been going on in Tatarstan for 13 years already.
"This isn't a single banned organization, but the real jaamaats are amply numbered. Terrorists are highly organized and possess the skills for a conspiracy," Khokhorin said.
First published in Russian in Vedomosti.ru.
All rights reserved by Rossiyskaya Gazeta.