Development of a major natural gas field postponed by Gazprom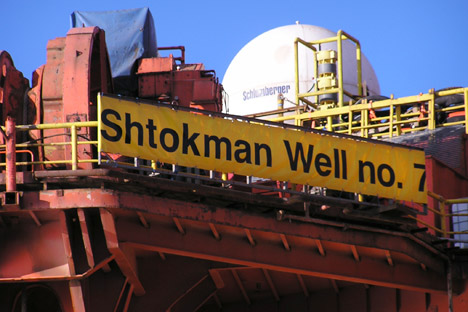 The Shtokman field development project has been suspended because of disagreements on the terms and conditions. Source: AP
The Shtokman field project, co-developed by Gazprom, Total, and Statoil, has been suspended. The partners have failed to reach an agreement on the terms and conditions. Russia could now lose a considerable chunk of the global natural gas market to the United States and rivals from the Asian-Pacific Region.
The Shtokman field development project has been suspended, Gazprom Board member Vsevolod Cherepanov has reported. "All the parties have agreed that the costs were too high for us to be able to proceed at this point", Cherepanov said at a press conference in Norway. A shareholders' meeting of Shtokman Development, the field's operator, is expected to decide Shtokman's fate at a meeting on September 4, 2012.
The Shtokman field, one of Russia's largest, is located in the Barents Sea, which makes its development difficult. The field contains 3.9 trillion cubic metres (3.9 quadrillion liters) of C1 natural gas reserves and 53.3 million tons of C1 and C2 condensate reserves. The license belongs to Gazprom Dobycha Shelf and Shtokman Development AG, co-owned by Gazprom with 51 percent, France's Total with 25 percent, and Norway's Statoil with 24 percent, is the operator for the first development stage. Investment at this stage was initially estimated at $12–14 billion, only to more than double to $30 billion later. Gazprom planned to develop stages two and three on its own but is now considering inviting partners for those stages as well. While the project's partners expected supplies from the field to start flowing in 2013 or 2014, they eventually failed to agree on the technical parameters.
The suspension of the Shtokman project could have an adverse effect on Russia's position on the global energy market. Accordingly, the Ministry of Economics has downgraded its outlook for Russian natural gas export volumes and prices. The Ministry's baseline scenario now assumes that Russia will export 193 bcm (51 trillion gallons) of gas in 2012 instead of 212 bcm (56 trillion gallons), where 2011 exports had been 221 bcm (58 trillion gallons). The Ministry also predicts 209 bcm (55 trillion gallons) in 2015 instead of 253 bcm (67 trillion gallons). The average price for natural gas in the CIS in 2012 will be $393 per 1,000 cubic metres (265,000 gallons), rather than $439, and only $390 in 2015.
The Ministry's pessimism is exacerbated by expectations of expanded production of shale gas in the United States and of liquefied natural gas (LNG) in the Asian-Pacific region, Minister Alexander Novak said. "We are now considering adjusting our Energy Strategy to reflect the challenges facing the industry as a whole and the changes that have occurred in recent years, including those linked to the shale revolution, to the proliferation of new shale gas and shale oil production technologies", Novak said. The decision to put the Shtokman project on hold also had a lot to do with American shale gas, according to Grigoriy Birg, Co-Director of Investcafe's Research Department, who told Expert magazine: "First of all, tax breaks for the Shtokman took too long to materialize, and, second, the United States, which was supposed to become a major market, has shifted its focus to shale gas instead. Under the circumstances, Gazprom should be worrying about retaining the European market".
The Shtokman field was unofficially considered one of Gazprom's strategic projects, for two reasons: First, this field is Russia's fourth and the world's eighth largest in terms of reserves; second, it was to become a testing ground for the latest models and technologies for harvesting natural gas from underneath cold seas. All told, a definitive freeze on the northern project is out of the question. Just a month ago, Gazprom CEO Alexei Miller insisted that consultations on Shtokman development terms would be completed by this September. Technical solutions to gas production in a difficult environment remain the main problem. The key challenge is not so much how to produce gas, but how to make production profitable. The partners have failed to find an optimal model.
This project will obviously not be thrown out completely, agrees Capital Asset Management investment company analyst Viktor Markov. "It will be resumed, in two or three years' time, once the pricing situation on the natural gas market has stabilized. Gas prices have been following a downward trend since 2008 and we have yet to see the bottom", Markov said. He pointed out that Gazprom apparently does not want to take any chances, particularly in the midst of a European financial crisis. Markov believes that companies other than Total and Statoil are likely to become Gazprom's partners in the project. Kommersant also reported that the gas giant was not happy with its partners, Total and Statoil, and was exploring other options. Negotiations were underway with Shell and ExxonMobil, but their outcome is unknown.
All rights reserved by Rossiyskaya Gazeta.