MacBooks for Moscow's elementary schools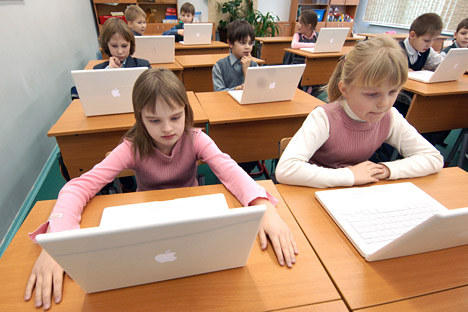 Moscow authorities promise to equip schools with a MacBook Pro laptop by 2014. Source: RIA Novosti / Sergey Pyatakov
Teachers, students and their parents learn to operate Apple computers.
Moscow officials promise to equip all teachers and first-graders with a MacBook Pro laptop by 2014. Children love the laptops, but parents suggest that they are too expensive and unnecessary.
The start of the new academic year was marked by the launch of brand new Apple desktops and MacBook laptops in Moscow schools. The first Apple computers were provided for first-graders in Moscow back in 2010, when students from 180 schools were equipped with MacBook laptops. By 2011, at least 1,500 Moscow schools had received laptops for their first grade pupils. This year, second-graders were to start using MacBooks on Sept. 1, the first day of school. Supplying schools with expensive computer equipment is part of the government's campaign to switch to a new state standard for elementary schools. This standard envisions studying in a digital/electronic environment, with electronic journals, textbooks and records.
According to officials, the introduction of MacBook computers is also part of the federal Our New School program, which was promoted by former president Dmitry Medvedev, a known Apple enthusiast.
What, how much and how
One of the objectives of Moscow's municipal Information City (2012-2016) program is to equip Moscow schools with computers at a rate of 17 machines per 100 students by 2014. However, new laptops are not distributed evenly among schools. Because of the inconsistency of supplies, some schools have enough computers for both the first and second grade classes, while students in other schools have to share during classes. There are also schools that have no Apple computers at all, parents of first-graders told Moskovskie novosti.
The contract for the "supply of computing and telecommunications devices equipping educational establishments of the city of Moscow in 2012" also specifies the software to be used with the schools' MacBook laptops. The list includes the mathematics software packages Matryoshka and Live Mathematics, Live Word software for writing skills and the open creative environment PervoLogo, which enables first-graders to include cartoon illustrations in essays and older pupils to simulate science experiments.
"This software works fine on Windows"
Parents are divided on the introduction of these new computers, as their enthusiasm for their children operating MacBooks is usually clouded by the high prices of Apple machines.
"My daughter was in the first grade not so long ago. The main problem was that their teacher was always telling them: 'this is very expensive equipment - if you break it, you'll have to pay for it to be fixed repair.' The children were scared and didn't like those classes. They mostly worked with Matryoshka. You could access it from home, on the Internet. I thought it was exciting," Ksenia Sochilova, the mother of a pupil of school No.191, told Moskovskie novosti.
"My son was doing jigsaw puzzles during his first year and learning how to combine syllables. There was also some sort of a typing tutor.
The kids loved it, and were not intimidated by the price. Teachers attended some special training. It was all fine, except for the project cost... This software works perfectly well on Windows. I'd rather they bought a regular laptop for everyone - it would be better and cheaper," says Andrei Prokofyev, the father of a student of school No. 1286.
Konstantin Okunkov, whose son has just started third grade in school No. 1454, agrees. "I am familiar with software development, and I can say that, of all the software programs adopted by schools, none are made exclusively for Mac computers. If our aim is to have economically justified software solutions for schools, then Windows will do just fine, while Linux or Android could take care of other tasks, as they would be much cheaper," said Okunkov.
First published in Russian in Moskovskiye Novosti.
All rights reserved by Rossiyskaya Gazeta.