Designer turns New York's Pier 57 into a futuristic odyssey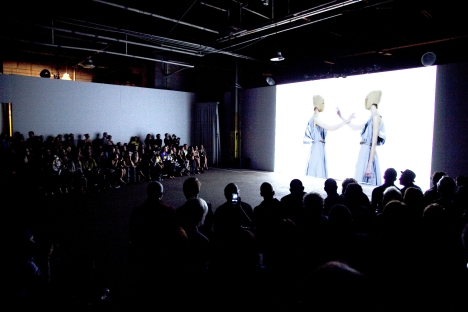 The show, titled Homo Consommatus, included live models improvising in front of the video installation on the pier, but it was the clothes that grabbed the audience. Source: Victoria Janashvili / DEPESHA
Alexey Sorokin throws off the cloak of valenki and folklore, replacing tradition with futurism, with apparent influences as diverse as David Bowie and Pussy Riot.
New York's Pier 57 offered a cinematic backdrop for Russian designer Alexey Sorokin's futuristic, dystopic collection. A relative unknown from the city of Kostroma 180 miles north of Moscow, the 28-year-old hit some of the right chords with an original line full of rich-earth mineral colors, suprematist-style cuts and elegant face masks that evoked the erstwhile anonymity of the punk provocateurs Pussy Riot and a cartoonish female version of Ironman.
The show came at the tail end of New York's Fashion Week, but a sold-out crowd of local fashionistas and Russian diaspora kept the energy high. The show, titled Homo Consommatus, and arranged and produced by DEPESHA in New York, included live models improvising in front of the video installation on the pier, but it was the clothes that grabbed the audience.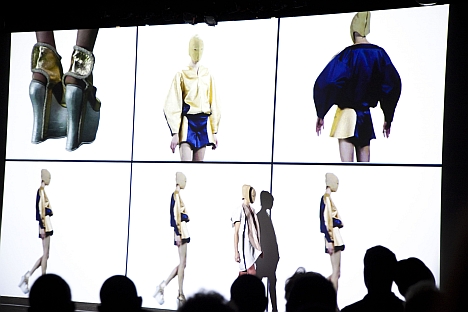 Source: Victoria Janashvili / DEPESHA
It will be weeks, even months, before it's clear whether Sorokin manages to sell his line to New York's fashion industry.
Susan Scafidi, a professor at Fordham University's Fashion Law Institute, said that the collection was a play on paradoxes. "Short silhouettes combined soft volume with the hardness of leather; a muted color story of winter white, oxblood, deep blue and gold was at once part of Alexey's post-apocalyptic references and reminiscent of an illuminated page from a faded medieval manuscript," she said. Speaking about Sorokin's possible future in American fashion, Scafidi said she thought that "to start, boutiques known for avant-garde fashion like Opening Ceremony or department stores like Barneys could connect Alexey with customers interested in his point of view."
"It's definitely something new and very unusual, - said Maxim Sapozhnikov, fashion critic for Glamour Russia who was in town for the show. "It is a very conceptual piece, and the roughness of Pier 57 works in the best way possible highlighting particular aspects of the brand. I can definitely see some of my celebrity friends in Alexey's clothes on an evening when one is dressing to impress. I do think this show is a great first step towards a great future."
"I'm very grateful to the guests for their sincere response," Sorokin said right after the September 12 show, speaking to RBTH. "I feel that the first step has been made."
Surprisingly for some, it's impossible to find folklore elements so typical for other Russian designers in Alexey Sorokin's works – there are no stylized matryoshkas, no valenki or Khokhloma motifs. "I want my design to be contemporary," he said. "So there is no reference to a certain cultural layer or historic period. I like to define my style as post-globalization."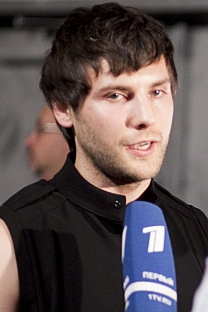 Alexey Sorokin. Source:
Victoria Janashvili / DEPESHA
There are already a handful of successful émigré Russian designers living and working in New York and participating in various fashion weeks. Sorokin, 28, lives and works in St. Petersburg and this was his first foray into the United States. In 2008, he graduated from Saint Petersburg's Stieglitz State Art and Industry Academy. During the past three years, he has shown his collections in Europe and sold his apparel in St. Petersburg boutiques. His customers are women between the ages of 25 and 45. His biggest challenge, he said, is finding high-quality materials and dealing with Russia's Federal Customs Service.
"I buy my fabric in Italy and Scotland, he said. "Unfortunately, proper [textiles] simply don't exist in Russia."
Sorokin's next show is in St. Petersburg in October. "Sometimes it's hard to define your source of inspiration as most of it comes from inside," he said. "But I love what I do, and that's what counts."
---
What the audience said
RBTH Culture correspondent Xenia Grubstien talked to fashion observers about Alexey Sorokin's New York show on September 12. Here are some highlights.
Ian Mackintosh: "Within his avant-garde collections, there are wearable pieces that a buyer, both in the U.S. and in Europe, would be able to identify," said Ian MacKintosh, director of public relations at the School of Fashion of the Academy of Art University, San Francisco, "While there is a fetish influence to some of his pieces, there are others that have a romantic feel," he added. MacKintosh said that Sorokin should establish a network of supporters in New York to help him grow his brand."
James Goldstein: "It was a brilliant presentation, I've seen thousands of fashion shows and I've really enjoyed this one," said the eccentric multi-millionaire James Goldstein, wearing, true to his name, a golden leather biker jacket and a wide-brimmed black hat."
John Magzalcioglu: It was hard to appreciate the materials "without people walking in front of you," said the representative from Diamond Club International. (The show did not feature a traditional runway; instead, models walked in front of the video installation at a distance from the audience.) "It's very independent," he added.
All rights reserved by Rossiyskaya Gazeta.