BP-Rosneft: Back to business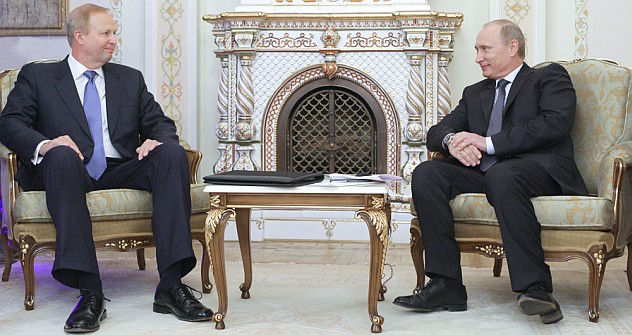 Thinking big: BP's President Robert Dudley and Russia's President Vladimir Putin at their meeting in Russia in 2011. Source: RIA Novosti / Alexey Druzhinin
As part of the Kremlin's bid to raise about $ 1 trillion of investment in energy companies by 2020, BP is preparing to buy a 12.5 percent stake in Russia's Rosneft.
British oil major BP is close to signing a deal that would make it the largest shareholder in Russia's oil powerhouse Rosneft and secure the beleaguered company's future into the bargain.
BP's President Robert Dudley was in Moscow last week to meet president Vladimir Putin and Rosneft's head Igor Sechin, a Kremlin insider and widely seen to have hands-on control of Russia's oil sector. Rosneft is the biggest company in the sector (first by reserves and by production) and accounts for about one third of Russia's oil exports.
"The sides discussed issues related to the continuation and expansion of BP's presence on the Russian market, and also the prospects of cooperation with Russian companies," was all the Kremlin press office would say after the meeting.
The deal, if it goes ahead, is BP's second attempt at tying up with Rosneft; it would also allow the company to exit from its troubled joint venture, TNK-BP. BP is reportedly negotiating to swap its 50 percent share in the Russo-British TNK-BP in exchange for a 12.5 percent stake in Rosneft, plus $10 billion-$15 billion in cash. The government would retain a 12.53 percent stake worth $8.6 billion at current market prices if the deal goes ahead.
Relations with BP's Russian partners in TNK-BP, the Alfa Access Renova (AAR) consortium, made up of some of Russia's richest private businessmen, went sour last year when BP did a deal to jointly exploit Russia's rich Arctic territories. That deal collapsed after AAR bought legal action against BP, insisting AAR should have been invited to participate.
In June of this year, BP announced that it would quit TNK-BP, but said last week that it is not giving up on Russia. "BP's management has assured the Russian president that the company is interested in a long-term and mutually beneficial partnership with Russia," the company said in a statement after the meeting with Mr. Putin.
For its part, the Kremlin seems keen to do the deal as part of its long-term strategy for reviving the oil sector. ''Russia is running out of cheap oil and shifting its focus to resources in places like eastern Siberia and to offshore deposits," says oil and gas analyst Ildar Davletshin. "Foreign companies are clearly going to play an important role in Russia's development strategy."
Rosneft has already replaced BP in the Arctic adventure with ExxonMobil – which has made a 30-year commitment to the project. And news came the same week as the Kremlin in effect re-launched its privatization drive by selling a 7.6 percent stake in state-owned bank giant Sberbank to international investors for $5.4 billion. The sale of one of the state's most important companies is now expected to be followed by a raft of offerings as part of a $100 billion sell-off.
Russian energy minister Alexander Novak also announced that the government will launch a road show in October to showcase Russian energy assets as part of the Kremlin's effort to raise $1 trillion of investment in oil, gas and power by 2020.
At a more prosaic level, the deal makes sense for Rosneft, too, which would add TNK-BP's 1.8 million barrels to its own daily production of 2.7 million barrels (from Russia's total production of about 10 million barrels a day). This would mean the company would account for more than one-third of Russia's daily output.
"What we are talking about here is a partial backdoor nationalization of the oil sector," said one analyst who didn't want to be named.
"That is not necessarily a bad thing. The end result is that Russia becomes a bit more normal; after all, the state owns the oil resources in most other oil-rich states."
All rights reserved by Rossiyskaya Gazeta.