Nuclear energy: Still worth it?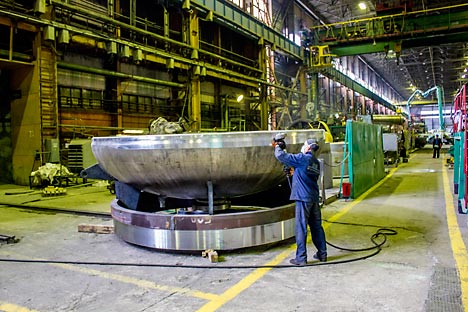 Power struggle: Rosatom is seeking compensation over the unfinished Belene nuclear plant. Source: Press Photo
Cautious approach in the aftermath of Japanese disaster is a blow for Rosatom's ambitions and global plans to tackle greenhouse gases.
The Fukushima nuclear disaster in Japan last year has forced many governments to question their continued investment in nuclear energy.
One of the considerations for countries in Europe is the Euro 2020 strategy, which sets a number of climate-change and energy targets, including a 20 percent reduction in greenhouse gas emissions. Nuclear power plants do not emit CO², which means they can help governments to reach this target.
A transition towards coal- and gas-driven power generation would cancel out virtually all global efforts to combat the threat of climate change, whose effects, such as abnormal heat, floods, storms and droughts, have already been seen in a number of countries.
For the time being, nuclear power plants are irreplaceable, as alternative energy sources lack the capacity for a major breakthrough and remain a pipe dream among specialists. Until new and reliable sources of energy are developed, nuclear energy will remain the most eco-friendly alternative to coal and gas.
Most Western European states have now decided to keep their nuclear energy development programs after Fukushima, with the only exception being Germany. The British government has concluded that the country needs more nuclear power plants to ensure its national energy security.
Throughout the next decade, approximately 25 percent of the nuclear stations currently active in the UK will be decommissioned. In the meantime, these obsolete facilities will have to be replaced with safe, low-carbon and efficient plants.
However, in Eastern Europe, things are less clear cut. Bulgaria's decision to abandon construction of the nuclear plant in Belene, which Russia's state energy company Rosatom was building, has caused a political row between Bulgaria and Russia.
There was concern that the region where the site was to be built was prone to earthquakes. However, the planned power plant was intended to be a third-generation reactor which is deemed to be very safe and meets all the EUR (European Utility Requirements) standards. Its safety systems incorporate a core catcher, which is designed to catch and cool molten material in the event of a meltdown. The plant also successfully passed the International Atomic Energy Agency-compliant stress tests which were developed after the Fukushima Daiichi nuclear disaster.
According to the Bulgarian government, the main reason for calling off the project in March was a lack of funds for construction. Yet, given that Rosatom was offering to cover between 70 percent and 100 percent of the project costs, which would later have been recovered by power supplies generated from the plant, this argument was not very convincing. Rosatom plans to take legal action against Sofia to recover about $1.3 billion it has already spent on the project.
The cancellation of the Belene plant was welcomed by the United States, which recently lost out to Russia in a bid for several energy projects in Europe, including for nuclear fuel supplies to the Czech Republic and Ukraine. It said that the plant would make Bulgaria too dependant on Russia for energy.
But the Belene plant could still be built. Unexpected support for the new power plant has come from the country's former Prime Minister Simeon II, Tsar of Bulgaria from 1943-6. He believes that it is unwise to abandon the Belene plant, given that increasing numbers of Bulgaria's neighbors are building new nuclear reactors, guided by the economic outlooks and energy consumption forecasts for the next few decades.
Romania, for example, has already completed the first two units of its Cernavoda nuclear power plant, and obtained approval from the European Union for the construction of two more reactors, which are scheduled to begin operations in 2017.
Turkey is also building a nuclear power station with the aim of exporting electricity to neighboring countries. Moreover, the cancelled project cost Bulgaria many jobs, which prompted 700,000 of its citizens to sign a petition calling for a national referendum on this issue.
Nevertheless, if Sofia does pull the plug on the Belene project for good, it could face an even worse economic depression. By closing down the Belene project permanently, without any adequate trade-off, Bulgaria runs the risk of running low on energy with virtually no chances of increasing output after its only nuclear power plant at Kozloduy, 120 miles north of Sofia, becomes obsolete.
All rights reserved by Rossiyskaya Gazeta.