Ovechkin owes Dynamo contract to his mother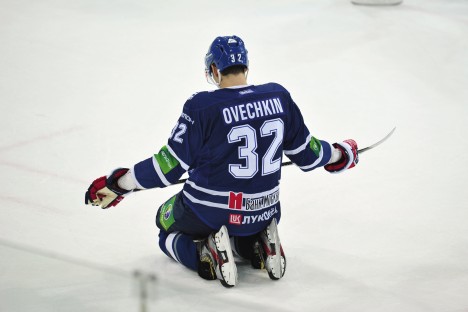 Alex Ovechkin will play with current KHL champion Dynamo Moscow during the NHL lockout. Source: RIA Novosti
The mother of Russia's prominent hockey forward played an important role in bringing him back to the KHL champions.
Last week, Washington Capitals forward Alex Ovechkin signed a contract to play with current KHL champion Dynamo Moscow for the duration of the NHL lockout. Tatiana Ovechkina, mother of the 27-year-old forward, was the chief contract negotiator on the deal, which produced a $6.5 million contract for her son.
Ovechkina began negotiations with CSKA General Manager Sergei Fedorov, but eventually it became clear that the two sides could not agree on a salary. It was at this point the Ovechkins turned to Dynamo, where Ovechkin had played before leaving for the United States.
Dynamo General Manager Andrei Safronov was wary of signing NHL stars under the circumstances, but he was eventually persuaded by Dynamo president, billionaire Arkady Rotenberg, who was contacted by the Ovechkins after talks with CSKA broke down.
"It's no secret that I was hurt when I read that my home club didn't want me," Ovechkin said. "But it's all in the past now, and I'm back with Dynamo. I'm happy to be in my home club, to see my old fans and be with my parents."
Ovechkin's contract with Dynamo is for between two and 12 months, which is how long the NHL lockout will last, according to experts. If Ovechkin should stay with Dynamo until the end of the season, he will make $6.5 million. A new rule was published by the KHL ahead of the NHL lockout specifying that NHL players' contracts in the KHL cannot exceed 65 percent of their American salaries. Ovechkin makes $9.5 million annually with the Washington Capitals, albeit before taxes, so Tatiana Ovechkin was able to get her son the maximum allowed under the rule; the difference between Ovechkin's NHL and KHL salaries will be made up by special NHL insurance.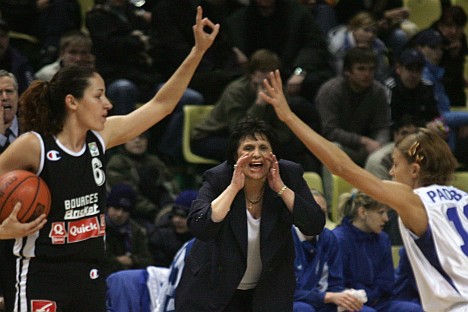 Tatiana Ovechkina, mother of the 27-year-old forward, played a significant role in brinnging her son back to Dynamo Moscow. Source: ITAR-TASS
Incidentally, Ovechkin has managed without an agent or any official representative for most of his career. His father, Mikhail Ovechkin, used to act as his voluntary press officer, while his mother handled the business side of the operation. When it became apparent that a new lockout was imminent in the NHL, Russian agent Gleb Chistyakov started negotiating with KHL clubs. However, it was Ovechkina, a strong-willed woman and an authority in the world of sports, who played the decisive role in concluding the new contract. Ovechkina is a two-time Olympic basketball champion and was head coach of the women's basketball club at Dynamo Moscow for many years.
---
Russian NHL Players Guide by RBTH will be released soon! The Guide will help the hockey fans know more details about the Stanely Cup playoff season. Readers can download this app in October 2012.
All rights reserved by Rossiyskaya Gazeta.